Current Exhibition
Portraiture Now: Asian American Portraits of Encounter
August 12, 2011 through October 14, 2012.



Visit the website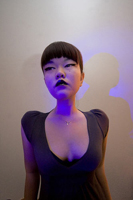 This installation of Portraiture Now will feature seven artists, each of whom will show several works.

The National Portrait Gallery and the Smithsonian Asian Pacific American Program are collaborating on an exhibition that will be the Smithsonian's first major showcase of contemporary Asian American portraiture. Through the groundbreaking work of seven talented artists from across the country and around the world, the exhibition offers provocative renditions of the Asian American experience. Their portraits of encounter offer representations against and beyond the stereotypes that have long obscured the complexity of being Asian in America.

The artists featured are CYJO, New York; Hye Yeon Nam, Atlanta and New York; Shizu Saldamando, Los Angeles; Roger Shimomura, Lawrence, KS; Satomi Shirai, New York; Tam Tran, Memphis, TN; and Zhang Chun Hong, Lawrence, KS.

Lead support for the exhibition, publication, and related programs is provided by the E. Rhodes and Leona B. Carpenter Foundation and the Rebecca Houser Westcott Fund for "Portraiture Now."

Additional support is provided by Andrew S. Ree and the Joh Foundation.






smithsonian institution | privacy | copyright | sitemap | npg home