Current Exhibition
Bound for Freedom's Light:
African Americans and the Civil War
February 1, 2013, through March 2, 2014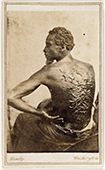 To commemorate the 150th anniversary of the Emancipation Proclamation, the National Portrait Gallery presents "Bound for Freedom's Light: African Americans and the Civil War." This installation focuses on the roles that individual African Americans played during the course of this hard-fought conflict. In addition to highlighting the Civil War experiences of famous men and women such as Harriet Tubman, Frederick Douglass, Martin R. Delaney and Sojourner Truth, "Bound for Freedom's Light" includes compelling stories of others whose names may be less familiar. Among those featured are Gordon, who escaped enslavement on a Louisiana plantation to join a black regiment and fight for the Union cause; and Robert Smalls, the South Carolina bondsman who freed himself and his family by seizing control of a Confederate ship and delivering it safely into Union hands.

"Bound for Freedom's Light" includes vintage photographs and historic prints, the majority drawn from the collection of the National Portrait Gallery. The installation's curator is Ann Shumard, senior curator of photographs at the museum.



smithsonian institution | privacy | copyright | sitemap | npg home




Museum Floorplan

View the museum's new exhibition spaces and layout.



Gallery Floorplan


View Floorplan (PDF)