Past Exhibition
Elvis at 21: Photographs by Alfred Wertheimer
October 23, 2010, through January 23, 2011
Second Floor



Visit the website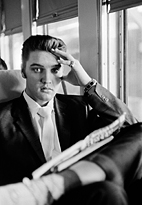 In 1956, 26-year old Alfred Wertheimer was asked to photograph a rising 21-year-old-star named Elvis Presley. When Presley walked on stage that year, he altered the beat of everyday life. The world changed. Wertheimer captured the singer's transit to superstardom and the cultural transformation he helped launch.
"Elvis at 21" offers viewers an intimate look at the public and private life of one of the world's most famous figures, and documents classic American life—from the diners to the train stops—in 1956.
"Elvis at 21: Photographs by Alfred Wertheimer" was developed collaboratively by the Smithsonian's National Portrait Gallery, the Smithsonian Institution Traveling Exhibition Service, and Govinda Gallery, and is sponsored nationally by The History Channel.






smithsonian institution | privacy | copyright | sitemap | npg home