Past Exhibition
Face Value: Portraiture in the Age of Abstraction

April 18, 2014 to January 11, 2015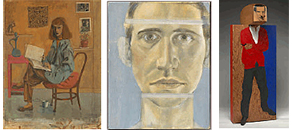 "Face Value: Portraiture in the Age of Abstraction" features mid-20th century artists who were reinventing portraiture at a moment when most agreed that figuration was dead as a progressive art form. Chuck Close recalled that during this time, "the dumbest, most moribund, out-of-date, and shopworn of possible things you could do was to make a portrait." And yet, with startling freshness and a touch of defiance, a group of young artists demonstrated the value of exploring the face and figure. With more than 50 paintings, drawings, prints and sculpture from approximately 1945 to 1975, "Face Value" highlights the innovations of American portraiture hiding behind the vogue for abstraction. Artists such as Alice Neel, Elaine de Kooning, Robert Rauschenberg, Beauford Delaney, Alex Katz, Romare Bearden, Fairfield Porter, Jamie Wyeth and Andy Warhol, along with lesser-known artists, pushed the boundaries of portrait traditions. Inspired by the theories and ambitions of the Abstract Expressionists and keenly attuned to the themes of their own turbulent times, they reinterpreted human portrayal, reinventing portraiture for the next generation. The curators for this exhibition are senior curator of prints and drawings Wendy Wick Reaves, chief curator Brandon Fortune and senior historian David C. Ward. "Face Value" has been made possible by the Mr. and Mrs. Raymond J. Horowitz Foundation for the Arts, Inc.; the Abraham and Virginia Weiss Charitable Trust, Amy and Marc Meadows; Donald A. Capoccia and Tommie Pegues; Patricia Stonesifer and Michael Kinsley; the Paul M. and Christine G. Wick Fund; and Ella Foshay.



Images: Elaine de Kooning Self-Portrait / Elaine de Kooning (1918 - 1989) / 1946 / Oil on Masonite / National Portrait Gallery, Smithsonian Institution Brian O'Doherty, "Transitional Head" / Brian O'Doherty (born 1928) / 1957 / Oil on canvas / National Portrait Gallery, Smithsonian Institution; gift of Barbara Novak in honor of Marc Pachter Hugh Hefner / Marisol Escobar (born 1930) / 1966-67 / Polychromed wood / National Portrait Gallery, Smithsonian Institution; gift of Time magazine





smithsonian institution | privacy | copyright | sitemap | npg home




Museum Floorplan

View the museum's new exhibition spaces and layout.



View Floorplan (PDF)