Past Exhibition
Glimpse of the Past: A Neighborhood Evolves
March 5, 2010, through September 25, 2011
Second floor



Visit the website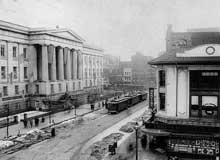 "Glimpse of the Past" is a photographic exploration of the neighborhood surrounding the Patent Office Building, one of the oldest federal buildings in Washington, D.C. and now home to the Smithsonian's National Portrait Gallery and the Smithsonian American Art Museum.
Featuring images from the 1850s to the present, the exhibition shows the rise, decline and revival of the area. An interactive in the exhibition will also feature snapshots of the area during the 1960s and1970s made by Washingtonian Chris Earnshaw.



Image
Corner of 9th and G Streets, N.W., Washington D.C. / Unidentified Artist, c. 1920 / Prints and Photographs Division, Library of Congress, Washington, DC







smithsonian institution | privacy | copyright | sitemap | npg home




Museum Floorplan

View the museum's new exhibition spaces and layout.



Gallery Floorplan


View Floorplan (PDF)