Current Exhibition
Yousuf Karsh: American Portraits

May 2 through November 2, 2014 (two installations)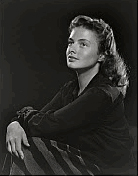 In celebration of a major gift to its collection of more than 100 portraits created by renowned photographer Yousuf Karsh (1908–2002), this exhibition features iconic photographs of Americans who have distinguished themselves in fields as diverse as business, medicine, entertainment, politics and the arts. Among the portraits included are those of artist Georgia O'Keeffe, physician and virologist Jonas Salk, singer Marian Anderson, actress Grace Kelly, businesswoman Elizabeth Arden, architect I. M. Pei and first lady Eleanor Roosevelt. "Yousuf Karsh: American Portraits" is the museum's first exhibition devoted entirely to the work of this internationally recognized portrait photographer, and it will be presented in two installations. The curator of this exhibition is National Portrait Gallery Senior Curator of Photographs Ann Shumard.






smithsonian institution

| privacy | copyright | sitemap | npg home




Museum Floorplan

View the museum's new exhibition spaces and layout.



Gallery Floorplan


View Floorplan (PDF)