Currently on View
American Origins, 1600-1900
Ongoing exhibition
First Floor



Visit the website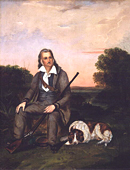 A "conversation about America" is on view in a series of 17 galleries and alcoves chronologically arranged to take the visitor from the days of contact between Native Americans and European explorers through the struggles of independence to the Gilded Age. Major figures from Pocahontas to Chief Joseph, Alexander Hamilton to Henry Clay, and Nathaniel Hawthorne to Harriet Beecher Stowe are among those included.

Three of the galleries are devoted exclusively to the Civil War, examining this conflict in depth. A group of modern photographic prints produced from Mathew Brady's original negatives complements the exhibition. Highlights from the Gallery's remarkable collection of daguerreotypes, the earliest practical form of photography, are on view in "American Origins," making the National Portrait Gallery the first major museum to create a permanent exhibition space for daguerreotype portraits.







Image:
John James Audubon / Unidentified Artist / Copy after: John Woodhouse Audubon / c. 1841 / Oil on canvas / National Portrait Gallery, Smithsonian Institution; transfer from the National Gallery of Art; gift of the Avalon Foundation through the generosity of Ailsa Mellon Bruce, 1951









smithsonian institution

| privacy | copyright | sitemap | npg home




Museum Floorplan

View the museum's new exhibition spaces and layout.



View Floorplan (PDF)