Past Exhibition
Seeing Gertrude Stein: Five Stories
October 14, 2011 through January 22, 2012



Visit the website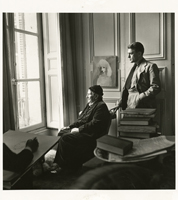 Seeing Gertrude Stein: Five Stories features more than 25 artifacts and 100 works by artists from across Europe and the U.S., detailing Steinís life and work as an artist, collector and distinctive style-maker. The exhibition shares an in-depth portrait of Stein that knits together her many identities: literary celebrity; life-long partner of Alice B. Toklas; arts networker whose famous friendships included some of the most prominent artists of her time (Picasso, Matisse, Braque, Hemingway); Jewish-American expatriate; and muse to artists of several generations. Stein is considered by many to be an inventor of Modernism whose reach across the arts was extraordinary. She wrote novels, poems, essays, literary and art theory, opera libretti, ballets, memoirs and childrenís books and was also an arts networker, bringing creative people together in legendary salons and gatherings in her homes. Her originality as a thinker, along with her interdisciplinary approach to projects in dance, music and theater, continue to inspire artists today.

Wanda Corn, Professor Emeritus of Stanford University, is serving as guest curator, with Tirza True Latimer, Chair of Visual and Critical Studies at California College of the Arts, serving as associate guest curator.

Seeing Gertrude Stein: Five Stories has been jointly organized by the Contemporary Jewish Museum in San Francisco and the National Portrait Gallery, Smithsonian Institution, Washington D.C. Major support for the exhibition, publication and related programs has been received through a grant from the Terra Foundation for American Art.

Additional support for the exhibitionís national tour has been provided by E*TRADE.

Generous support for the exhibition at the National Portrait Gallery has been provided by the Abraham & Virginia Weiss Charitable Trust, Amy and Marc Meadows; Ella Foshay; Vicki and Roger Sant; Grace Bender; Catherine V. Dawson; Stephen and Roberta Denning; Laura Peebles and Ellen Fingerman; Michelle Smith; Kenneth and Elaine Cole; Ronald and Beth Dozoretz; Anne Marie and Jerry Marenburg; Diana Walker; Sue Beddow; Charles Francis; and the Gertrude Stein Salon Circle.

Generous support for the exhibition at the Contemporary Jewish Museum has been provided by the Koret Foundation; Taube Foundation for Jewish Life and Culture; an Anonymous Donor; Osterweis Capital Management; Jim Joseph Foundation; the Leavitt Family; Michael and Sue Steinberg; Randee and Joe Seiger; Joyce Linker; Seisel Maibach; and Dorothy R. Saxe.

Essential support for the publication has been provided by Fred Levin & Nancy Livingston, The Shenson Foundation, in memory of Ben and A. Jess Shenson.

Permission has been granted by Stanford G. Gann Jr., literary executor of the estate of Gertrude Stein, for quoting Steinís words and works.










smithsonian institution | privacy | copyright | sitemap | npg home