Current Exhibition
From FDR to Obama: Presidents on Time
February 12 through September 26, 2010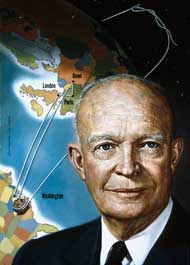 Regardless of how newsworthy a person may be, there is no magic formula for getting one's picture on the cover of Time magazine, with one exception: the president of the United States.
Founded in 1923, Time has put on its cover all incumbent presidents from Warren Harding to Barack Obama, with the exception of Herbert Hoover. Beginning with Franklin Roosevelt, this exhibition will explore the modern presidency through the covers of America's oldest and most recognized weekly news magazine.
The show includes approximately 30 works of presidential cover art, representing a wide variety of mediums, from traditional oil paintings to a pop-art sculpture bust of Richard Nixon made from strips of newspaper headlines. James Barber, historian, is the exhibition curator.
.



Images
Dwight David Eisenhower / Bernard Safran / Oil on Masonite, 1959 / National Portrait Gallery, Smithsonian Institution; gift of Time magazine










smithsonian institution

| privacy | copyright | sitemap | npg home