Past Exhibition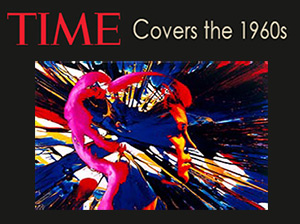 Exhibited September 26 through August 9, 2015



Week in and week out, Time magazine covered the 1960s using all manner of covers created by some of the foremost artists of the day. This exhibition of original cover art from the museum's Time collection explored a selection of the major newsmakers, trends and happenings that defined the 1960s, known as the "Age of Aquarius." It began with the Kennedy inauguration and a presidency nicknamed "Camelot" and ended with "one giant leap for mankind," as Apollo 11 ferried people to the surface of the moon and back. In the intervening years, Time covered the Cold War, Cuban Missile Crisis, escalation of the Vietnam War, civil rights, the women's movement and cultural phenomena such as the Beatles, hippies and the sexual revolution. National Portrait Gallery historian James Barber was the curator of this exhibition.

Exhibition images and labels are available via the Guide by Cell mobile application: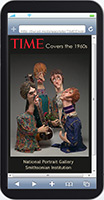 Las traducciones al español están disponibles en tu smartphone o tablet vía Guide By Cell

Texto: TIMESP para 56512
English language large type labels are also available for hand-held devices:
Text: TIMEEN to 56512


Las leyendas en español también están disponibles para descargar aquí:



Traducción en español de las leyendas de la exposición "TIME Covers the 1960s"
The Guide By Cell mobile applications have been made possible with support from the Philip and Elizabeth Ryan Fund.



smithsonian institution | privacy | copyright | sitemap | npg home




Museum Floorplan

View the museum's new exhibition spaces and layout.



View Floorplan (PDF)