Past Exhibition
In Vibrant Color: Vintage Celebrity Portraits from the Harry Warnecke Studio

March 2, 2012 through September 9, 2012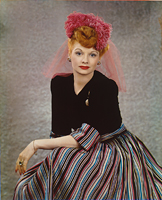 Well before color reproductions and color snapshots became commonplace, pioneering photographer Harry Warnecke (1900–1984) and his associates at the New York Daily News' Color Studio created brilliant, richly-hued portraits for the newspaper's Sunday News magazine.
Employing a special one-shot camera of his own design, Warnecke began producing color images for the Daily News in the 1930s by utilizing the technically demanding, tri-color carbro process—an early form of color photography. Over the course of several decades, Warnecke and his team photographed hundreds of people in the news, from popular film stars and athletes to military leaders and government officials.
Drawing from the NPG's collection of large-format, tri-color carbo photographs originally created under the auspices of the Daily News, this exhibition will feature twenty-four celebrity portraits from the 1930s and 1940s including Lucille Ball, Jackie Robinson, Babe Didrikson, Gene Autry, Ethel Waters, Generals Eisenhower and Patton, and comedians W.C. Fields and Laurel and Hardy.



Image:
Lucille Ball | Harry Warnecke (1900 - 1984), Robert F. Cranston (1898 - 1978), 1944, color carbo print, National Portrait Gallery, Smithsonian Institution; gift of Elsie M. Warnecke
NPG.94.40





smithsonian institution | privacy | copyright | sitemap | npg home