Currently on View:
"Jo Davidson: Biographer in Bronze"
Ongoing exhibitions
Second Floor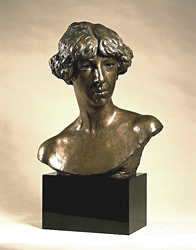 Fourteen portraits in bronze and terra-cotta made by renowned American sculptor Jo Davidson between 1908 and 1946 are on view. These include depictions of Gertrude Stein, Franklin D. Roosevelt, artist John Marin, and Lincoln Steffens.







Image
Gertrude Vanderbilt Whitney / Jo Davidson / 1968 cast after 1916 original Bronze / National Portrait Gallery, Smithsonian Institution









smithsonian institution

| privacy | copyright | sitemap | npg home




Museum Floorplan

View the museum's new exhibition spaces and layout.



View Floorplan (PDF)