Performance date: Saturday, January 16, 4:00 p.m.
Performance location: Great Hall

James Luna (b. 1950, Orange County, California) portrays Ishi (d. 1916), the last member of the Yahi—Native Americans indigenous to Northern California. Luna and Sheila Tishla Skinner not only pay tribute to the man known during his lifetime as "the last wild Indian" but also give voice to indigenous women.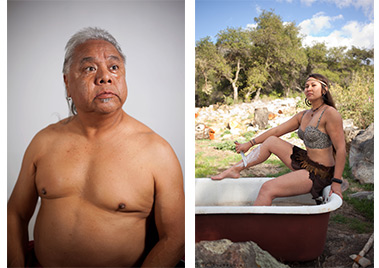 In my creative process in presenting live art, I have developed characters such as the ShameMan, Uncle Jimmy, and the Artifact to speak to issues effecting Native people globally.

In working I don't set out specific goals as to the scenes. As I work, the concepts begin to roll on their own, and then I begin to add the details to make it an interesting presentation. This is not the process that happened with the Ishi piece.

One evening as I began to script at my kitchen table, I realized that many of these ideas, thoughts, and feelings were not mine but his. I had entered a spiritual space. There are moments when I have presented the performance that I do all I can to not become overwhelmed with emotions of sadness and loss to complete the work. Then there comes the feeling of relief and accomplishment that I have shared an important story on behalf of the Native peoples of California and the phenomenal story of Ishi.


Images:
Ishi: The Archive Performance: "If I Could Only Tell You." Photo by Mark Velasquez

Ishi: The Archive Performance: Ishi: The Archive Performance, Sheila Tishler Skinner, photo by Mark Velasquez