Hart Crane 1899-1933
Carl Schmitt (1889-1989)

Oil on metal support, after 1917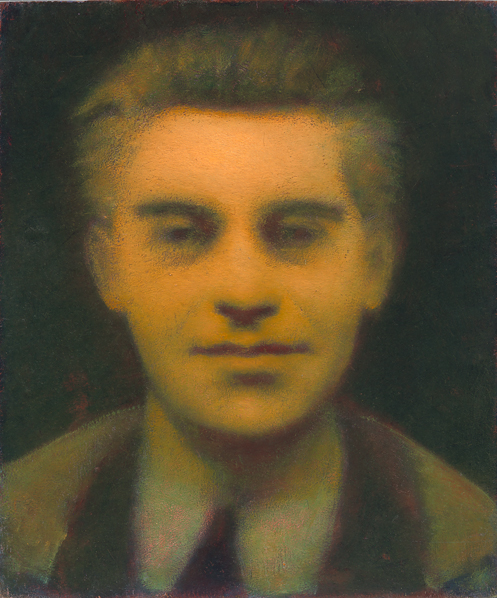 In 1917, Harold Hart Crane fled his parents' disintegrating household in Ohio for New York City, where he attempted to find work and create an artistic life for himself. In New York he met a twenty-seven-year-old artist/intellectual named Carl Schmitt, who took Crane under his wing. Schmitt was Crane's tutor in modernism, and he played an essential role in Crane's transition from an unformed aspiring midwestern writer to the most ecstatic American poet of the city since Walt Whitman.
Crane's great book-length poem The Bridge (1930)—named after the Brooklyn Bridge—took seven years to write and is packed with the sense that the poet was nearly overwhelmed by the romance of modern life. Crane reveled in the manic energy of the city in all its aspects: from the din of construction to the promise of late-night sexual encounters. Crane swallowed the city whole, giving back in his incantory verse a sense of the possibilities and varieties of human experience.
It couldn't last. Still young, Crane came down with a terrible case of writer's block and, in despair, committed suicide at age thirty-three. In this group of images, Carl Schmitt's later portrait of his young protégé is fogged, indistinct, and mysterious—suggesting the ultimate mysteriousness of Crane's personality that led him to his tragically early death.
How many dawns, chill from his rippling rest The seagull's wings shall dip and pivot him, Shedding white rings of tumult, building high Over the chained bay waters Liberty—Hart Crane From "The Bridge," 1933