Allen Ginsberg 1926-1997
Robert Wesley Wilson (1937) Copy after: Larry Keenan, Jr. (born 1943) Publisher: Cranium Press (active 1960s-1970s) Offset lithographic poster, 1967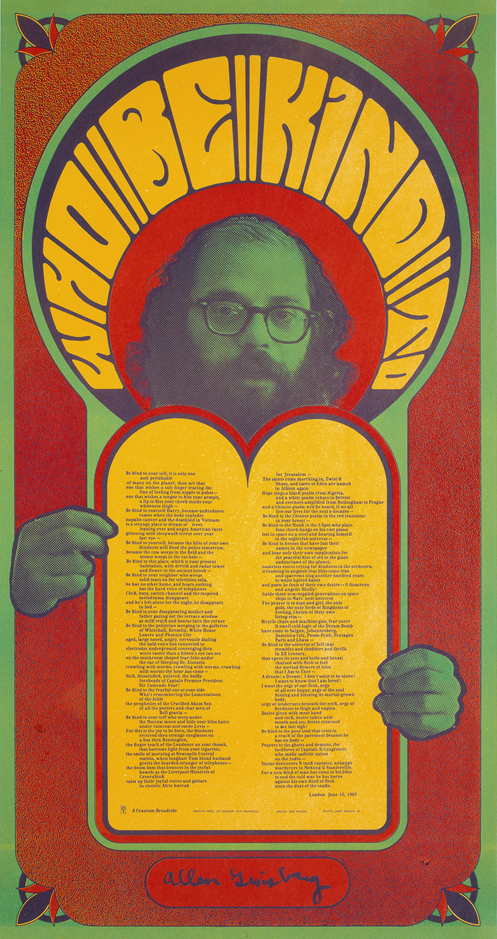 "I saw the best minds of my generation destroyed by madness, starving hysterical naked." With this, the first line of Howl (1955), Allen Ginsberg launched the postwar counterculture's revolt against the American consensus.
Ginsberg sparked the self-styled Beat movement that took the double meaning of its name from a sense of exhaustion with postwar American triumphalism and a despairing commitment to rebel against it with a new cultural politics rooted in individual identity.
Howl was also Ginsberg's coming-out as a poet, as he put aside all his self-consciousness and allowed his unmediated voice to pour out. With Howl "Allen finally accepted his homosexuality and stopped trying to become 'straight'" in all meanings of the word, noted his biographer, Bill Morgan.
In a photograph by William S. Burroughs displayed in this grouping, Ginsberg presents himself as a nice, buttoned-down Jewish boy who was recently a student at Columbia. His appearance gives no indication of the internal turmoil that would result in America's greatest long poem since Walt Whitman's Leaves of Grass. .
What thoughts I have of you tonight, Walt Whitman, for I walked down the sidestreets under the trees with a headache self-conscious looking at the full moon. In my hungry fatigue, and shopping for images, I went into the neon fruit supermarket, dreaming of your enumerations! What peaches and what penumbras!Alan Ginsberg From "A Supermarket in California," 1955