The museum reopens its signature exhibition, "America's Presidents," with a newly acquired photograph of Donald J. Trump, 45th President of the United States. This portrait of President Trump is one of several photographs by the award-winning New York–based photographer Pari Dukovic while on assignment for Time magazine. Taken on June 17, 2019, the day before Trump officially announced he would seek reelection, this photograph shows him at the Resolute Desk, which has been in the White House almost continuously since 1880. The flags in the background, placed in the office during Trump's presidency, reflect the five branches of the armed forces (left to right): Army, Marine Corps, Navy, Air Force and Coast Guard. Also visible in the background (left) is Asher B. Durand's  portrait of Andrew Jackson (1835), a figure whom President Trump alluded to frequently. On the right is a portrait of Benjamin Franklin (c. 1785) by Joseph Duplessis, on loan to the White House from the National Portrait Gallery.
>> View the America's Presidents online exhibition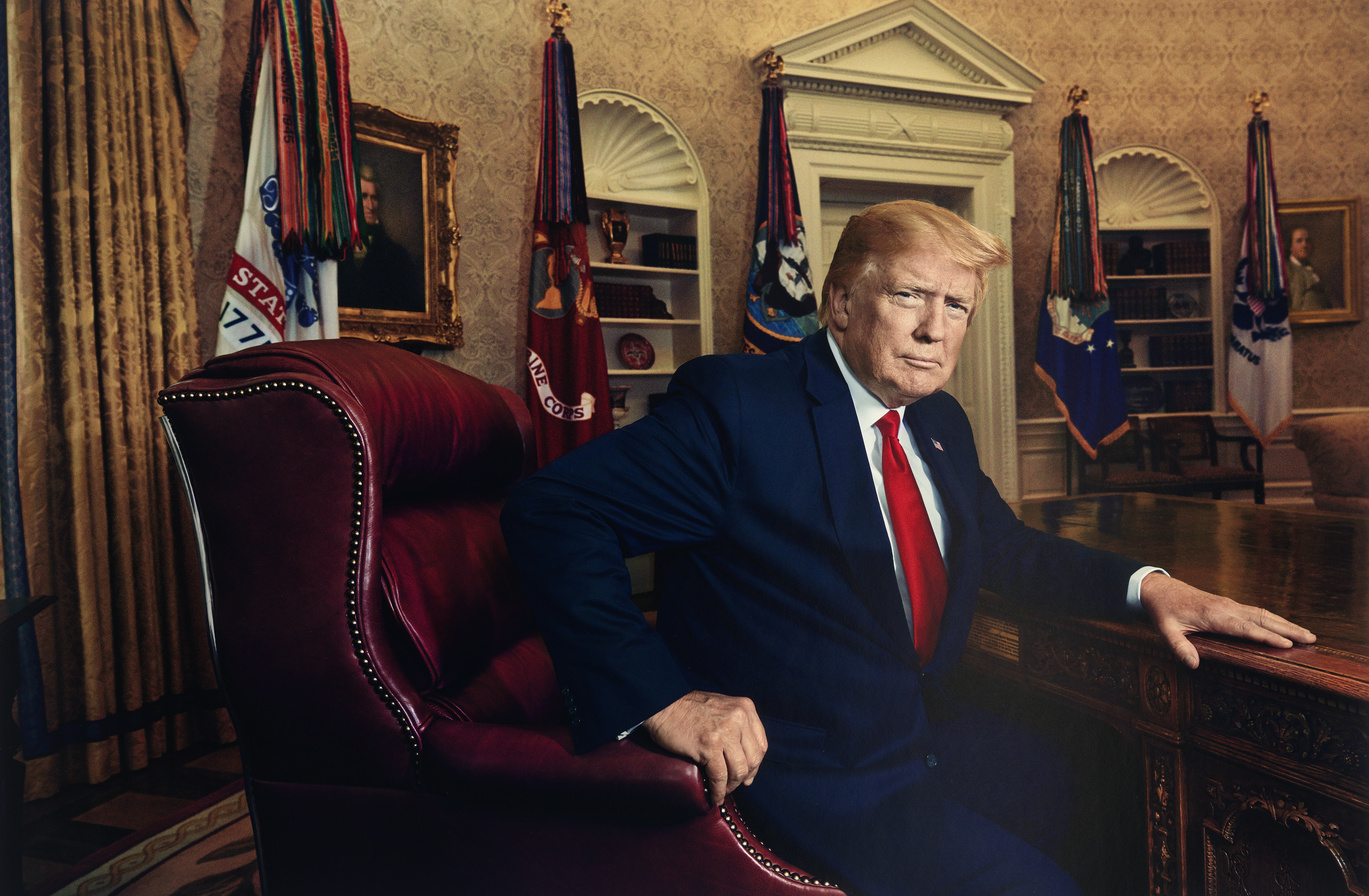 Donald J. Trump born 1946 
(President Donald J. Trump for Time magazine in 2019) 
Forty-fifth president, 2017–2021 
Donald J. Trump was elected president of the United States after tapping into populist American sentiment. Having led a career in business and television, he created an identity that was antitraditional government and put forth an "America First" agenda. During his tenure, Trump appointed a record number of federal judges, including three Supreme Court justices. He brokered the Abraham Accords, significantly restricted immigration, and reduced government regulations. In February 2020, the unemployment rate was a record low at 3.5 percent. Throughout his term, he was impeached two times: the first on charges of abusing power and obstruction of Congress and the second for incitement of insurrection. He was acquitted by the Senate in both trials. This photograph of Trump, from June 17, 2019, was taken on the day before he officially announced he would seek a second term. The beginning of the coronavirus pandemic (COVID-19), which resulted in a devastating loss of human lives and an economic crisis, became a key issue during his reelection campaign. More Americans voted in the 2020 presidential election than ever before, and the majority elected Joseph R. Biden Jr. Nevertheless, Trump did not concede, and a mob of his supporters, who refused to accept the results, attacked the U.S. Capitol complex on January 6, 2021, when Congress was working to certify Biden's win.