Teen Portrait Competition: Artists' Statements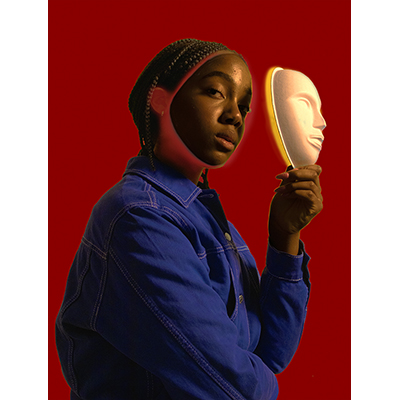 Artist Statement: My art revolves mainly around people of color. Growing up and not seeing enough representation of people of color in the media and in art has always been my motivation for finding ways to represent them and to magnify them in the best way I know how to, through my creativity. By utilizing texture, color and lighting, I find ways to appreciate our features, our warmth and our beauty. This image specifically represents how I confront the ways the media idealizes European women and their features, causing teenage women of color to feel that they are on the sidelines or not deserving of such a spotlight. In this image, I hope to depart from this exclusion of diversity in the media and in the art and entertainment industries. Instead, I demand representation for those that have not always been equally appreciated.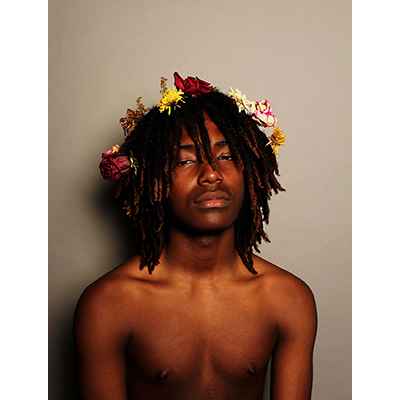 Artist Statement: My portrait, titled "What I Am, What I Think," is a statement about expectations of hypermasculinity in society. The persona that is presented to society's harsh standards is different than the true, surreptitious conscience. The wilted flowers in the model Jesse's hair represent the suppression of his softer side, while his nonchalant expression shows his inability to recognize this side of himself. Jesse may give off an intimidating aura, however, he is one of the most good-hearted people I know. He was the perfect person to photograph, as the message I wanted to convey was that softness and femininity is typically hidden due to standards forced on men and boys.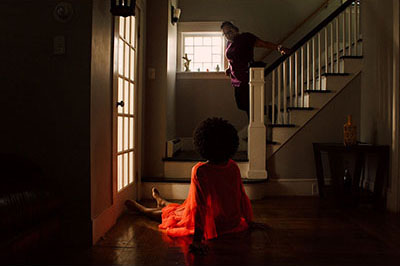 Artist Statement: This image is from a series of self-portraits titled "The Ball Ends at 5 PM," in which I explore and reimagine my childhood memories of putting on my mothers' clothing and dancing around my house before she arrived home. The series captures the beauty, vulnerability and freedom I felt in those moments of unbothered self-discovery of my femininity. This image depicts the moment in which my mother eventually caught me, conveying the fear and unpredictability of that moment. It also investigates my queer identity and the hidden beginnings of its exploration as a hidden event, while paying tribute to the underground ballroom scenes of New York in the 1930s.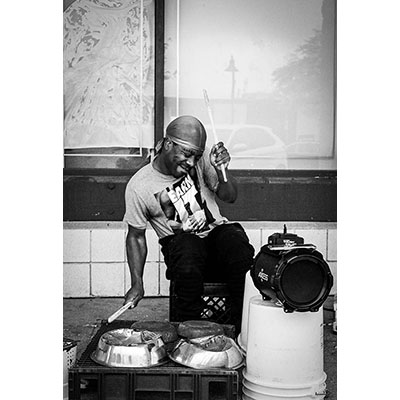 Artist Statement: This piece, "Earned It," is part of a larger project entitled "Urban Nirvana," in which I try to explore cities like Detroit beyond the picturesque tourist views, past the safety of the parking garages used for sports games, and immerse my work in those who truly make up the backbone of the city. With this photograph, I wanted to show the street performer's pure passion for his music and his ability to transform what some would label "trash" into professional equipment. I utilized my camera as a voice for the locals who give life to the profound spirit of their city's culture and to give them the recognition they deserve. Additionally, I hope this image erodes the disgust of outsiders and makes them question not only the meaning of the photograph, but also their individual beliefs. My aim is to end the ignorance about this metropolitan nirvana.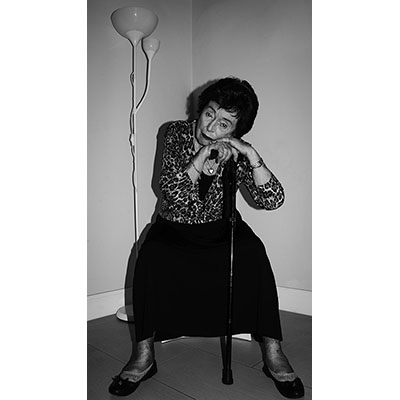 Artist Statement: This is my 88-year-old grandmother, Beatrice, whom my family calls Bubbe Bea. She was a working mother who started a law firm and has worked tirelessly ever since. In this photo, "The Party's Over," I wanted to capture her exhaustion after having a fun and lively time. I ensured her body language reflected her life and how, after all the "partying," she now gets to relax and settle down.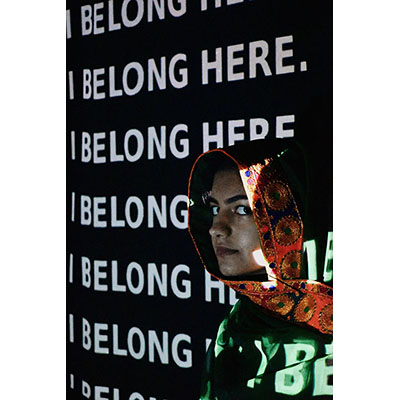 Artist Statement: For many minorities in America, the feeling of not quite belonging in this country is a familiar one. While the first image of an "American" that comes to mind may not be one of a minority, and while minorities may not always be treated like Americans, they have as much of a place in the U.S. as anyone else. This piece was part of a larger series in which I photographed various classmates who are also considered minorities. Each one has the same projected text, which serves as a defining statement for them.  
Using the production studio at my school and a black curtain for the background, I projected the phrase "I belong here," which I created in Adobe Photoshop, onto my models. The pictures were shot with a Nikon D3500 DSLR camera and an AF-P DX NIKKOR 18-55mm f/3.5-5.6G VR lens.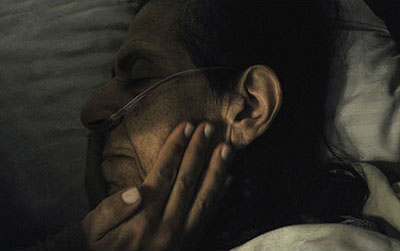 Artist Statement: I took this photo of my grandmother two weeks before she passed away. In the last year of her life, I spent a lot of time with her and focused on helping to take care of her.  More towards the end, I realized I would need to come to terms with and accept the loss that was coming, and I expressed myself through photography. Just the image of what we were watching her go through, and the way she went through it, was enough to show the impact that everything had on me. I took this photo in her apartment one day, making the photo my way of holding the memory of her and her strength. This was the last photograph ever taken of her.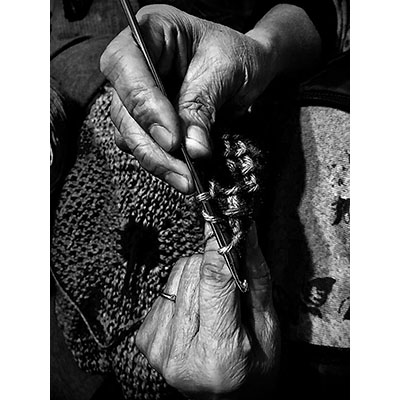 Artist Statement: This black-and-white photo is of my 68-year-old maternal grandmother knitting a blanket. My grandmother taught herself to knit from knitting books. She is an immigrant from Michoacán, Mexico. I love my grandma. She is wise because of life experiences. She tells me to do well in school because I am afforded opportunities in this country.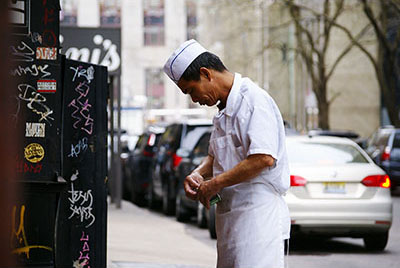 Artist Statement: Upon entering New York City's Chinatown, the modern conveniences of American life fade away, leaving behind a close resemblance of a Chinese suburb in the nineties. This man stood outside a rundown noodle shop, his clean uniform a stark contrast to the world around him. His arms still had droplets of water on them, his shoulders were stooped and his mouth was pinched in a seemingly permanent frown.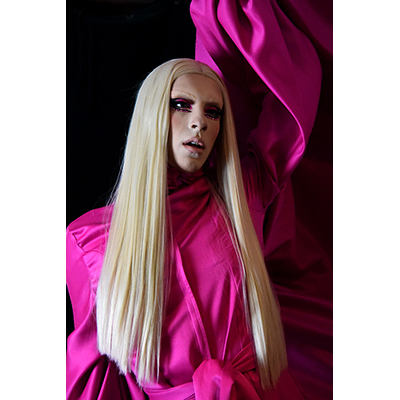 Artist Statement: The portrait features "Nick Gaga," a New York City drag performer. I chose to photograph Nick because I am interested in the ways that gender and identity are explored and expressed. Nick emulates just one of the many ways in which the traditional line between male and female gender can be blurred and identity is developed. I captured Nick's unique look while also focusing on the undeniable beauty of his craft.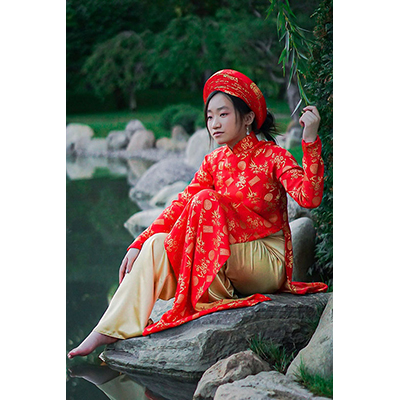 Artist Statement: In September, a friend challenged me to take a photo capturing what represents me entirely. I spent a few days brainstorming ideas only to realize that I was thinking too hard. As a child of Chinese and Vietnamese descent, it seemed only fitting to take a picture to showcase my cultural roots.

My friend, the model in the image, suggested symbolizing our parents and other immigrant families. I had her look off into the distance instead of into the camera to help emphasize the idea of looking towards a bright future for younger generations. Her face expresses peace, hope and determination; the same things my parents would tell me about over and over again each time I asked about their story of coming to America.

This photo represents me and my background perfectly.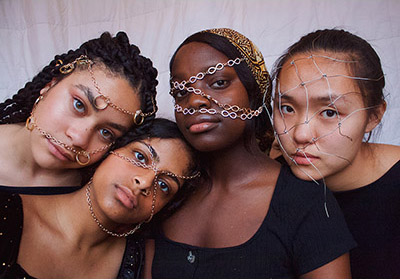 Artist Statement: Girlhood is a trap as much as it is a mask. This cage of repressed emotion, desire and expression is also the gateway to culture and beauty. Girls of color in America exist at a unique intersection of being held down — both by their own cultures' misogyny as well as by white supremacy — and being pushed forward into the limelight. The pressure to perform and give and create for others' consumption falls on our shoulders. The Black girls whose words and clothes and hair society appropriates, all while continuing to kill and incarcerate the Black bodies that this country stole and keeps stealing from. The Asian girls whose faces and voices have been robbed from them, distilled into products that girls who want to look and sound like caricatures of us can buy, while America continues to wage its imperial wars on our bodies and homelands. The girls with thick hair and thick noses and thick bodies who are surveilled and criminalized in their diaspora. We create pop culture, but pop culture ensnares us — our beauty and creation exist at the expense of our lives. We are held back, in chains, masking our true selves for the sake of our own survival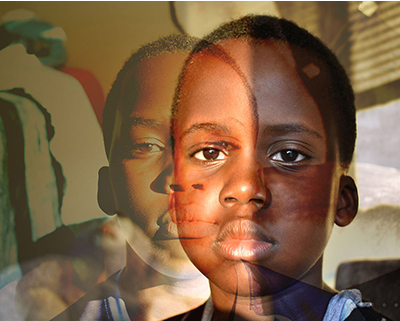 Artist Statement: Photography has been a passion of mine for some time now, and as I've grown in my studies, I've been able to strengthen my skills. The photo I've chosen is entitled "RJ and Izzy... 'Motionless,'" with the overall takeaway being, "breathing is a skill mastered by the wise." The photo portrays two young boys of different ages. They are shown with serious looks on their faces, symbolizing the ability children possess to focus when they really put their minds to it. The boys have light coming from both sides to show that even though they're in a state of seriousness, they're able to maintain a happy environment. Though they're young, they use their faces to portray messages, ergo "skills mastered by the wise."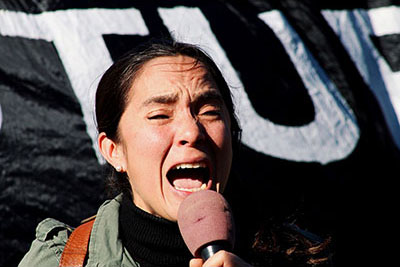 Artist Statement: Photography exists to tell stories, and I believe this mother has an important one. On November 29, 2019, she took the stage at the Black Friday Funeral for Future, a protest that mourned "all that we will lose without drastic and urgent climate action." She cried for herself, for her children and for the future of humanity. With this photo, I wanted to convey the fear in the air and the fear in my heart, along with this mother's pain and desperation. The climate crisis will kill us, unless we act now.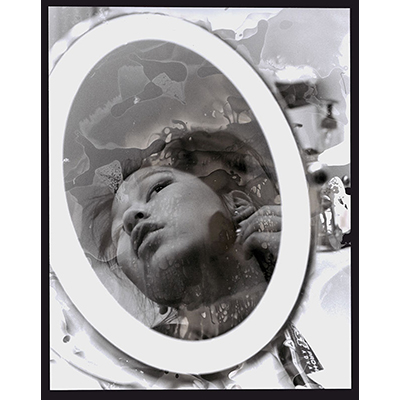 Artist Statement: There is constant movement in my house.  Phones ring, ovens beep and people rush in and out of the house all day long. The moment captured in this portrait, quickly past, is insignificant in my sister's life and in mine. What makes this photograph special is that it captures and reflects who she is during a rare minute of stillness. Something as insignificant as putting on makeup to go to the mall can communicate both the mildness of everyday life and the extraordinary world that we live in now. It shows the chaos of our teenage years, and our slow formation as individuals. All of this is captured in a single moment, imprinted on film and brought to life by strokes of developer. How can one single moment tell us so much about who we are?