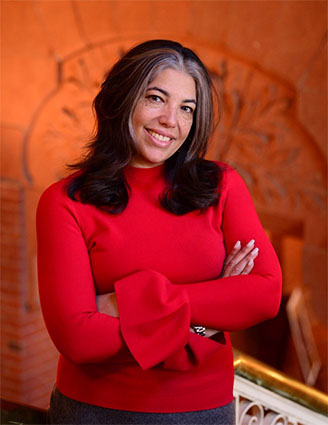 Director of History, Research and Scholarship / Senior Historian
Gwendolyn DuBois Shaw is the National Portrait Gallery's director of history, research and scholarship / senior historian. Appointed in 2019, she is the first woman and the first African American to hold this position and contributes wide-ranging experience to the museum's exploration of portraiture and the stories of influential Americans.
For four years, Shaw served on the advisory board of PORTAL = Portraiture + Analysis, the museum's scholarship and research arm, and in 2016, she was the senior fellow and host scholar of the museum's E. P. Richardson Symposium, "Racial Masquerade in American Art and Culture." Recent books published by the Portrait Gallery feature Shaw's scholarship. Her essay "'Interesting Characters by the Lines of Their Faces': Moses Williams's Profile Portrait Silhouettes of Native Americans" was written in 2018 for the exhibition catalogue "Blackout: Silhouettes Then and Now," and she also penned "Portraiture in the Age of the Selfie," the lead essay for the exhibition catalogue that accompanied "The Outwin 2016: American Portraiture Today."
Before joining the National Portrait Gallery, Shaw was an associate professor of the history of art at the University of Pennsylvania, where she served as a faculty fellow and as a faculty director in the College House system. She also directed the undergraduate majors in the history of art and in visual studies. Shaw's work has focused on race, gender, sexuality and class in the art of the United States, Latin America and the Caribbean.
Shaw has curated many exhibitions, including "Represent: 200 Years of African American Art," for the Philadelphia Museum of Art (2015), and "Kara Walker: Virginia's Lynch Mob and Other Works," for the Montclair Art Museum in New Jersey (2018).
Shaw received her Ph.D. in art history from Stanford University.