From the Director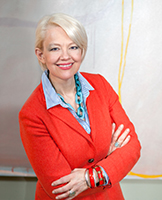 Kim Sajet was appointed director of the National Portrait Gallery in 2013. Presiding over a national collection of American portraiture is an extraordinary role for the Nigerian-born Sajet, who was raised in Australia and is also a citizen of the Netherlands, and her global perspective is welcome and refreshing. She perceives how many of the notable Americans depicted in the Portrait Gallery collection are viewed outside the United States and offers us a deeper understanding about their accomplishments and influence.
Before joining the Smithsonian, Sajet was the president and CEO of the Historical Society of Pennsylvania from 2007 to 2013. Previously, she was senior vice president and deputy director of the Pennsylvania Academy of the Fine Arts, the oldest art museum and school in the country. From 1998 until 2001, Sajet was the director of corporate relations at the Philadelphia Museum of Art, and she served first as curator and then the director of two Australian art museums from 1989 until 1995.
Sajet earned a master's degree in art history at Bryn Mawr College; a master's degree in business administration at Melbourne University Business School in Australia; a bachelor's degree, also in art history, at Melbourne University; and a graduate diploma in Museum Studies from Deakin University in Australia.
She completed arts leadership training at the Harvard Business School, the Getty and National Arts Strategies. In addition to 20 years of arts management experience, Sajet has written a number of scholarly publications, curated permanent-collection and touring exhibitions and spoken at academic symposia. Her most recent publication was on American artists who worked in Dutch art colonies between 1880 and 1914.