Mathew Brady's name may be synonymous with Civil War photography but there is much to admire in his pre-war output. This work—in the form of daguerreotypes, ambrotypes, and salted paper prints—is the focus of the National Portrait Gallery's exhibition, Antebellum Portraits by Mathew Brady (on view June 16, 2017–June 3, 2018).
Mathew Brady (1823?–1896) opened his first "Daguerrian [sic] Miniature Gallery" in New York City at 207 Broadway in 1844, just five years after the introduction of the daguerreotype—the first commercially practical form of photography. Touting the "beauty of color, tone and effect" of his daguerreotypes, Brady promoted his gallery in advertisements such as one published in the February 1, 1845 issue of the New–York Daily Tribune.
By enticing celebrities of the day to pose for his camera and encouraging members of the public to follow their example, Brady soon built a thriving business. His c. 1845 portrait of renowned American artist Thomas Cole is one of six daguerreotypes—direct positive images captured on plates of silver-clad copper—featured in the exhibition.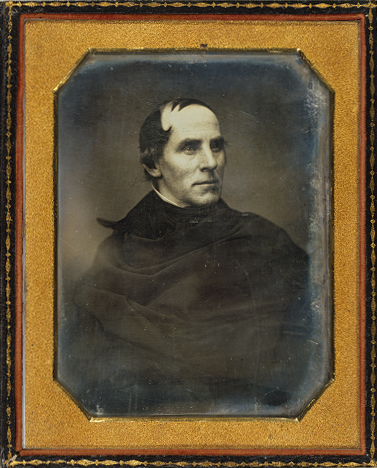 By 1851 Brady was among the most successful camera artists in the United States, and could boast of taking top honors for his daguerreotypes at the "Great Exhibition"—the vast international fair presented by Britain's Prince Albert at the Crystal Palace in London. The daguerreotype self-portrait (c. 1851) depicting Brady with his wife, Julia (left) and his sister, Ellen (right), exhibits the careful lighting, pleasing symmetry, and naturalness of expression that earned him the admiration of his contemporaries.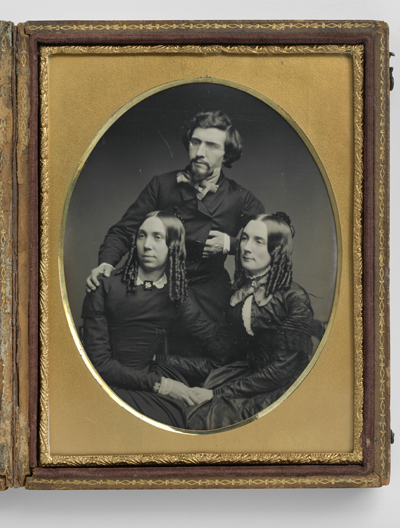 Brady expanded his portrait enterprise in 1853 by opening a new, richly appointed gallery at 359 Broadway. New York's Illustrated News published an interior view of the gallery on June 11, 1853, and noted that Brady's "large collection of daguerreotypes of eminent characters" was "well worth a visit from all who desire to witness American and European celebrities."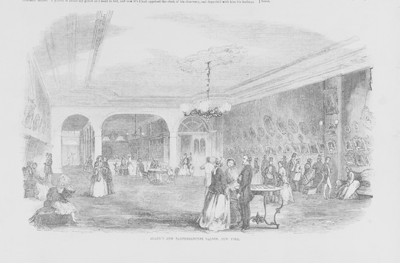 Brady's advertisements from this period underscored his reputation for excellence by referencing the prizes his daguerreotypes had received both at home and abroad.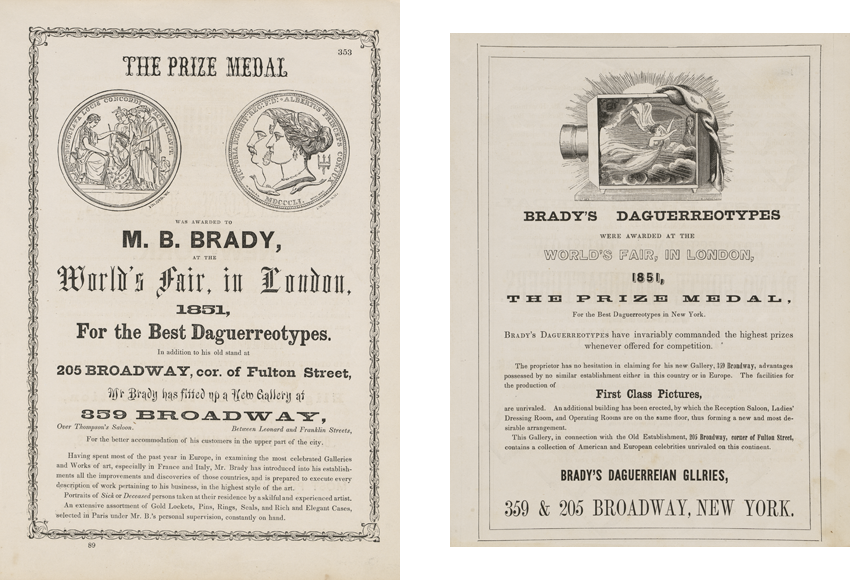 In the mid-1850s, ambrotypes—negative images on glass that appear positive when viewed against a dark background—began to eclipse the daguerreotype's popularity. Brady was quick to adopt the new process. In an advertisement published on September 29, 1855, he announced that he was now offering "AMBROTYPES—a New Style of Picture on Glass, more durable and perfect than any known method of portraiture." The National Portrait Gallery's collection includes five Brady ambrotypes, all of which are on view in Antebellum Portraits. Among the noteworthy subjects represented are civil engineer and western explorer Frederick W. Lander and West Point cadet (and future Confederate army officer) John Pelham.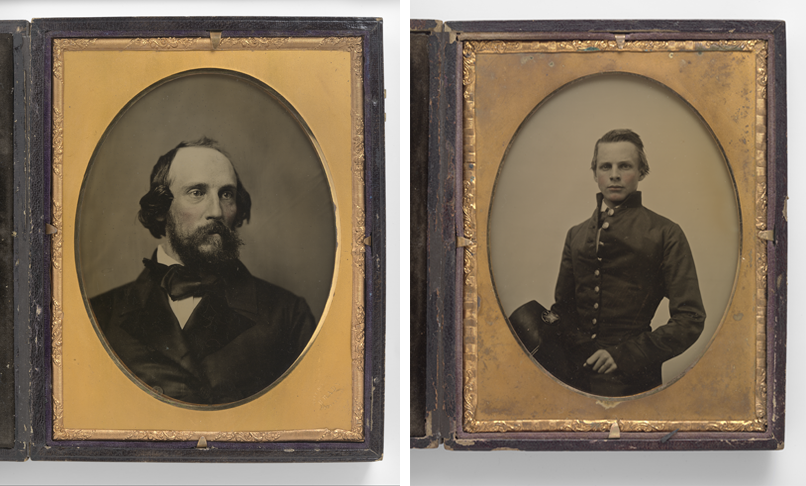 As the decade of the 1850s neared its close, Brady's studio remained in the vanguard of photographic innovation, employing a sizeable staff and creating glass-plate collodion negatives from which handsome salted paper prints (photographs printed on paper coated with common table salt and silver nitrate) were made. Antebellum Portraits concludes with the Brady portrait that played a significant role in shaping Abraham Lincoln's public image during the 1860 presidential campaign.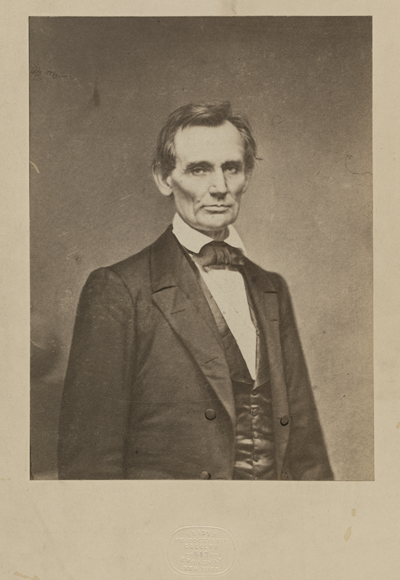 When photographing the Republican hopeful on February 27, 1860, Brady used a large-format glass negative. A salted paper print from that negative was retouched by one of Brady's artists to create a more pleasing image and then rephotographed. Prints from the resulting copy negative presented a carefully crafted, dignified portrait of Lincoln that refuted the unflattering characterizations circulated by his detractors. Brady later delighted in claiming that Lincoln had credited this portrait as a factor in his victory at the polls.