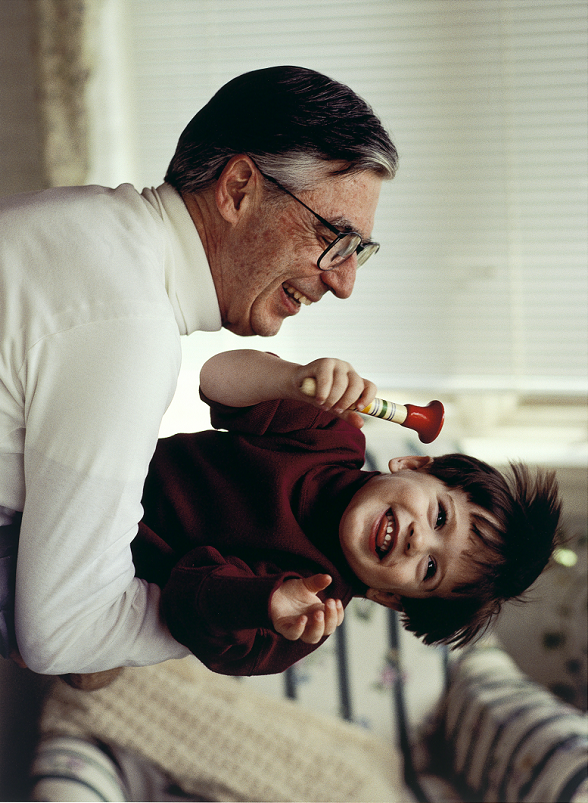 Millions of children across the United States grew up watching the television program Mister Rogers' Neighborhood, hosted by the Pennsylvania-born Fred Rogers (1928–2003). Ordained as a Presbyterian minister, and trained to work with families, Rogers had a lengthy career in television broadcasting. In 1951 he joined NBC in New York, initially as a gofer and eventually as assistant producer and floor director for several programs. He returned to Pennsylvania in 1953, where he worked at Pittsburgh's WQED and produced, wrote, and acted in the program Children's Corner. He moved to Canada in the early 1960s and developed the show Misterogers, which he transformed into Misterogers' Neighborhood when he returned to WQED in 1966. By 1970 Mister Rogers entered millions of homes on PBS stations nationwide. The last new episode of Mister Rogers' Neighborhood aired in 2001.
As Mr. Rogers opened the door of his stage set home singing "It's a Beautiful Day in the Neighborhood," he changed out of his work clothes and into sneakers and a cardigan sweater (an example of which is in the collection of the National Museum of American History). By opening that door Rogers left the outside world behind. He invited viewers into his home and, simultaneously, made himself a guest in theirs. His kind question, "Won't you be my neighbor?" carried with it the implicit suggestion that he, too, wanted to be the viewers' friend and "could give a child undivided attention."
Working with psychologists, Rogers developed more than 1,700 episodes, many of which tackled topics that were unusual for children's programming, including anger, fear, death, and divorce. In his discussions and through his calm demeanor he always encouraged his young viewers to be respectful and empathetic. While doing so, he emphasized their individuality, but also found ways to explore the commonalities among them.
If you would like to know more about Mr. Rogers and his legacy, please join us at noon on Thursday, July 27 to discuss his portrait by Nathan Benn, currently on view in the exhibition Recent Acquisitions (National Portrait Gallery, G Street NW entrance, First Floor).