This show will explore the lives and careers of the Charles R. Meade and Henry W. M. Meade brothers who, are recognized as leading members of the first generation of American studio photographers.
Read more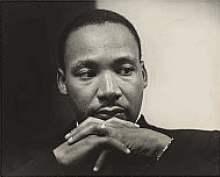 One Life: Martin Luther King, Jr
June 28, 2013 through June 1, 2014
This exhibition marks the 50th anniversary of the "March on Washington" and King's stirring "I Have a Dream Speech.
Read more



Dancing the Dream
October 4, 2013 through July 13, 2014
This exhibition will explore the relationship between the art of dance and the evolution of a modern American identity.
Read more



Mr. Lincoln's Washington: A Civil War Portfolio
December 13, 2013, through January 25, 2015
This exhibition will examine how the Civil War affected patterns of life in the District of Columbia
Read more



American Cool
February 7, 2014 through September 7, 2014
Cool is a supreme compliment that evokes public figures who carry a social charge of rebellious self-expression, charisma, edge and mystery.
Read more


smithsonian institution | privacy | copyright | sitemap | npg home