Ethel Mary Crocker (Countess de Limur) 1891–1964
Giovanni Boldini (1842–1931)
Oil on canvas, 1906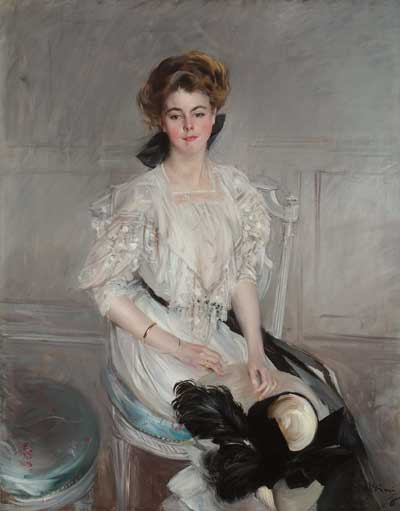 Shortly after the devastating 1906 San Francisco earthquake that destroyed her home, Mrs. William H. Crocker, a well-known collector of contemporary French art, commissioned Italian-born Giovanni Boldini to paint her oldest daughter, Ethel Mary.
Boldini was then living in Paris and wasat the height of his artistic reputation; his clients, among them the Duchess of Marlborough, came from the most fashionable ranks of international society.
Mrs. Crocker must have liked Ethel's portrait, as she and her younger daughter sat for Boldini in 1910.
A frequent traveler to Europe, Ethel met her husband, André Marie Adrian, Count de Limur, a pilot in the French Flying Corps, while she was driving an ambulance during World War I. In 1939 he came to Washington as an attaché with the French embassy, resigning in 1941 to protest the Vichy government.
The de Limurs and their three children remained in Washington, where Ethel became an integral part of Washington life and a supporter of numerous charitable causes.