Satomi Shirai
The title of Satomi Shirai's photographic project, Home and Home: New York in My Life, indicates a coming-to-grips with the dislocations caused by her move to the city from Japan in 2004. She writes about how she watched a small cherry tree in her Queens neighborhood and how she was shocked to discover one day that it had been cut down.
What makes Shirai a true artist of cultural conflict and engagement is that she did not flinch from this episode, or from America. Instead, her wonderfully overstuffed, sensually detailed photographs create the visual terrain that shows Shirai's ongoing engagement with two cultures.
Shirai graduated from Musashino Art University in Tokyo (1996) and worked as a commercial photographer in Japan before moving to New York City. She received her MFA from Hunter College in 2010. She has exhibited widely, including in the National Portrait Gallery's Outwin Boochever Portrait Competition (2009).

Read Satomi Shirai's artist statment

Listen to an interview with Satomi Shirai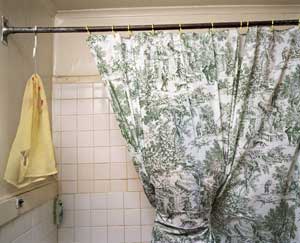 Shower Curtain
Satomi Shirai
Digital chromogenic print, 2006
Collection of the artist
© Satomi Shirai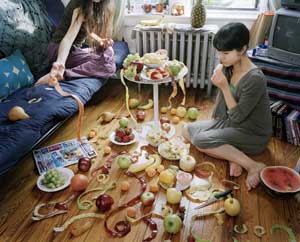 Fortune Telling
Satomi Shirai
Digital chromogenic print, 2007
Collection of the artist
© Satomi Shirai