Born San Jose, California
Norman Mineta broke barriers as the first Japanese American cabinet member and the longest-serving secretary of transportation (2001–6). He responded to the 9/11 attacks by grounding flights and creating the Transportation Security Agency.
Born in San Jose, California, Mineta was ten years old when the 1941 bombing of Pearl Harbor led the federal government to force him and 120,000 other people of Japanese ancestry into incarceration camps. "My family was told by the military authorities that internment was for our own protection," he wrote in 1983, "but the machine guns and searchlights in the guard towers . . . faced inward." Mineta graduated from the University of California, Berkeley, served in the U.S. Army, and worked for his father's business before entering into politics. He rose from San Jose City Council member to mayor before he was elected to the U.S. House of Representatives in 1975. During his twenty-year tenure in Congress, Mineta cosponsored the Civil Liberties Act of 1988, authorizing reparations to incarceration survivors, and cofounded the Congressional Asian Pacific American Caucus. In 2006, he was awarded the Presidential Medal of Freedom.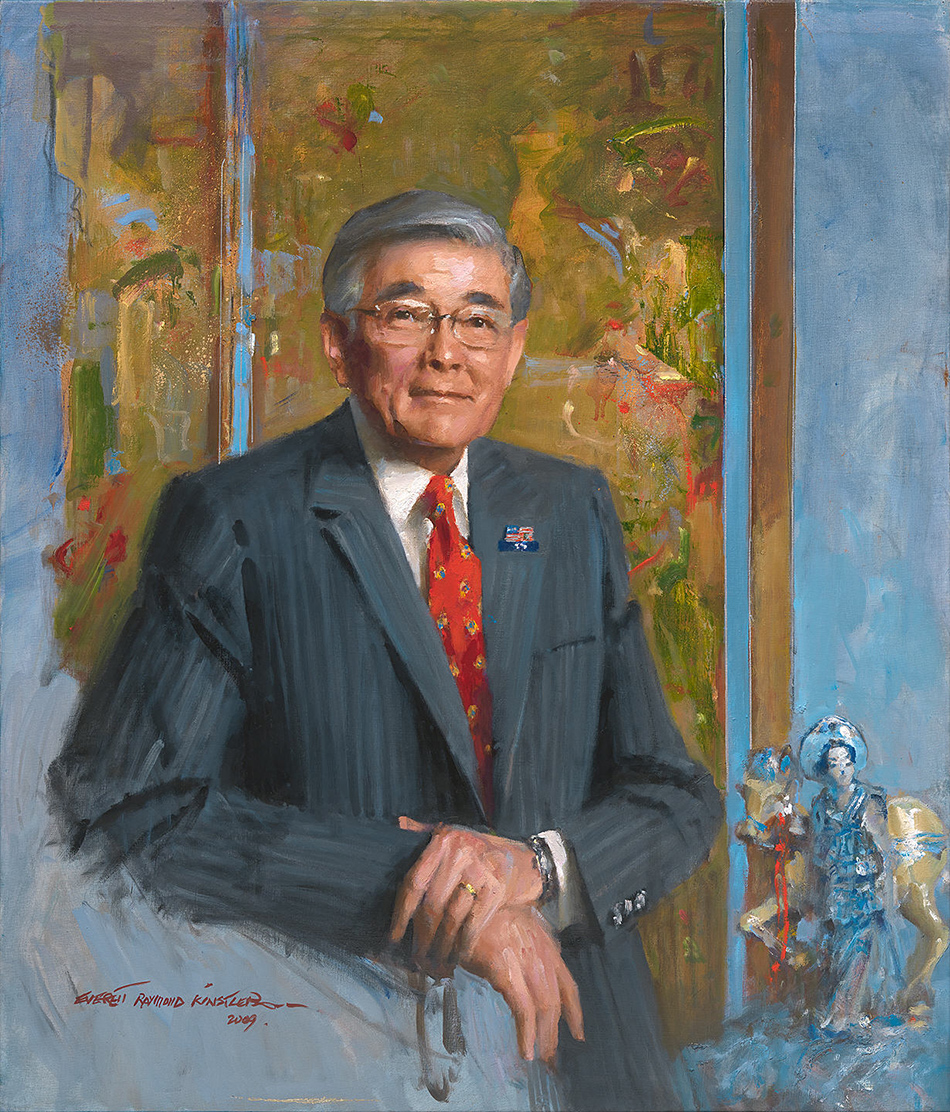 Norman Y. Mineta (1931–2022)
by Everett Raymond Kinstler (1926–2019)
Oil on canvas, 2009
Gift of George and Sakaye Aratani; Hill & Knowlton; Verizon Communications; AT&T; Freddie Mac; Saturn Electronics & Engineering/Wally Tsuha; Ms. Irene Hirano and the Japanese American National Museum; National Japanese American Memorial Foundation; Office of Hawaiian Affairs; The Washington Center for Internships and Academic Seminars; Asian American Government Executives Network; Asian Pacific American Institute for Congressional Studies; Allen Okamoto, Chairman of Asian Real Estate Association of America; Association of Asian/Pacific Community Health Organizations; Col. S. Phil Ishio (ret.) and Connie Ishio; Japanese American Citizens League (National); Japanese American Citizens League (D.C. Chapter); Japanese American Veterans Association; Justice & Security Strategies, Inc.; Leadership Education for Asian Pacifics, Inc.; Robert Nakamoto; National Coalition for Asian Pacific American Community Development; National Association of Realtors®; National Council of Asian Pacific Americans; OCA; State Farm®; and other friends of Norman Mineta.