The Smithsonian's National Portrait Gallery celebrates the life and legacy of Martin Luther King Jr. by displaying his likeness by Jack Lewis Hiller. The photograph will be on view beginning April 4 to coincide with the 50th anniversary of the influential civil rights leader and Nobel Peace Prize recipient's assassination.  The image will be on view through April 30 in the museum's first-floor north gallery.
Under King's inspired leadership, nonviolent protest became the defining feature of the modern civil rights movement. A brilliant strategist, he first demonstrated the efficacy of passive resistance in 1955, when he led the prolonged bus boycott in Montgomery, Alabama, that resulted in the dismantling of bus segregation laws. Charged by victory and having earned national recognition, the charismatic young clergyman went on to help found the Southern Christian Leadership Conference and took the lead in directing its civil rights initiatives. In a carefully orchestrated campaign of peaceful protest to expose and defeat racial injustice, King awakened the nation's conscience and galvanized support for the landmark civil rights legislation of the 1960s.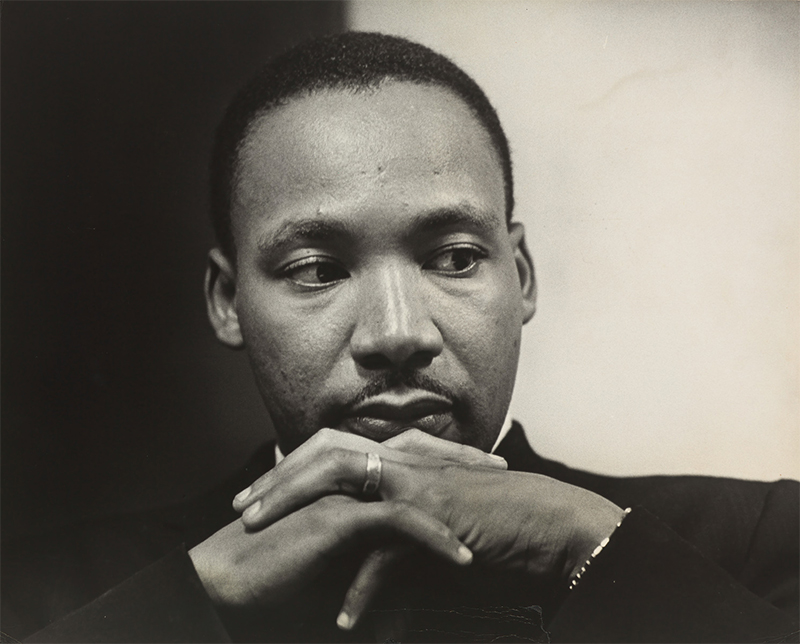 Martin Luther King, Jr. by Jack Lewis Hiller | 1960 | Gelatin silver print | National Portrait Gallery, Smithsonian Institution; gift of Jack Lewis Hiller,© 1960 Jack L. Hiller
This photograph of King was taken in November 1960, shortly after King's release from Georgia's notorious Reidsville Penitentiary, where he was imprisoned after participating in a sit-in protest in Atlanta. Hiller, a freelance photographer, captured this image at the all-black Virginia Teachers Association meeting in Richmond, Virginia. At that time, teachers' associations in Virginia were segregated. Hiller, who was white (and a high school history teacher in Fairfax County) had traveled to Richmond to attend the white teachers' association meeting. Eager to hear King speak, he crossed over to the black teachers' gathering, where he took this picture during a Q&A session following King's address.