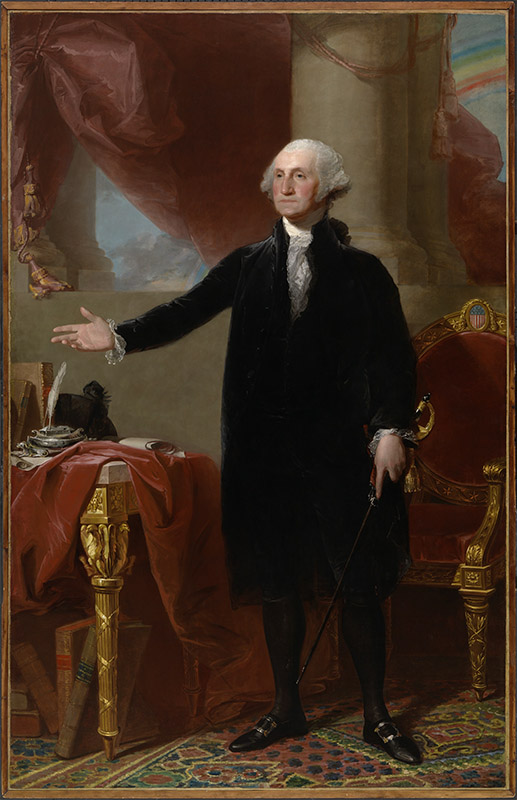 George Washington 1732–1799
("Lansdowne" Portrait)
First president, 1789–1797
Gilbert Stuart (1755-1828)
Oil on canvas, 1796
Acquired as a gift to the nation through the generosity of the Donald W. Reynolds Foundation
George Washington by Gilbert Stuart, 1796, oil on canvas, approximately eight feet high by six feet, four inches wide.
In this large-scale, over-life size portrait, George Washington stands in an ornate room. Positioned just to the right of center, and posed at a slight angle, he sets his feet squarely apart. The president does not face us directly, but rather turns to our left, with that arm outstretched as if gesturing during a speech. In the other hand, toward the right side of the canvas, he holds a ceremonial sword, and his index finger extends down along the blade.
The president's expression is authoritative. His mouth is set in a firm line, and his eyes are fixed, as if he is holding the gaze of an audience. A warm pink flush spreads across his clean-shaven cheeks. His hair is pulled back away from his forehead. Curled at the sides, it covers his ears, and blends into his thick sideburns. The ribbon fastening his hair is visible behind his left shoulder.
Washington wears a black velvet coat that just touches his knees. His breeches, waistcoat, and stockings, which are mostly in shadow, are also black, as are his shoes with their large silver buckles. White ruffled linen at his neck and lace ruffles at his wrists contrast with his solemn clothing and draw attention to his face and hands.
The richly furnished setting is formal. Behind Washington and to our right is a sumptuous chair. Made of carved, gold-painted wood, it is upholstered in burgundy velvet. At the center of its round seat back is a small shield. It resembles an oval-shaped American flag with red and white stripes and white stars on a blue background. A table fills the bottom left quadrant of the canvas and its corner points towards us. Part of the table's cream-colored marble top is draped in the same burgundy velvet as the chair. This drapery is partially lifted to reveal the table's gold leg. Carved to resemble a Roman fasces, a bundle of rods that symbolizes strength in unity, it is topped by a double eagle motif. Underneath the table are several large books. Two of them lean upright against the leg, revealing the titles on their spines: one reads American Revolution and the other Constitution and Laws of the United States. On the table, there are some smaller volumes, as well as a white feather quill perched in a silver ink well, some folded sheets of paper, and at the back – Washington's black plumed cap.
In the background, gold tassels draw back a wine-red velvet curtain to reveal two sets of monumental classical columns. Behind the columns and the curtain, a blue sky appears, and, at the top right, there is a rainbow.
---
The portrait label reads as follows:
George Washington 1732–1799
("Lansdowne" Portrait)
First president, 1789–1797
As a military and political figure, George Washington was a unifying force during the country's formative years. He fought in the French and Indian War and later served as commander-in-chief of the Continental Army in the Revolutionary War. After being unanimously elected as the first president of the United States, in 1789, he installed the Supreme Court and the cabinet, quelled the Whiskey Rebellion, and defeated the Western Lakes Confederacy in the Northwest Indian War (and facilitated the subsequent peace negotiations with the alliance). Washington enjoyed immense popularity at the end of his second term, but he declined to run again, insisting that the United States needed to take proper precautions to avoid hereditary leadership or dictatorship.
While mapping out the composition for this painting, American artist Gilbert Stuart, who had previously worked in England and Ireland, drew from European traditions of state portraiture to evoke Washington's leadership. The artist made a number of direct references to the newly formed United States, and the pose he chose for the president is believed to allude to Washington's annual address in front of Congress in December 1795. Stuart completed several replicas of the image, which spread rapidly through popular engravings.
Gilbert Stuart (1755–1828)
Oil on canvas, 1796
Acquired as a gift to the nation through the generosity of the Donald W. Reynolds Foundation
NPG.2001.13