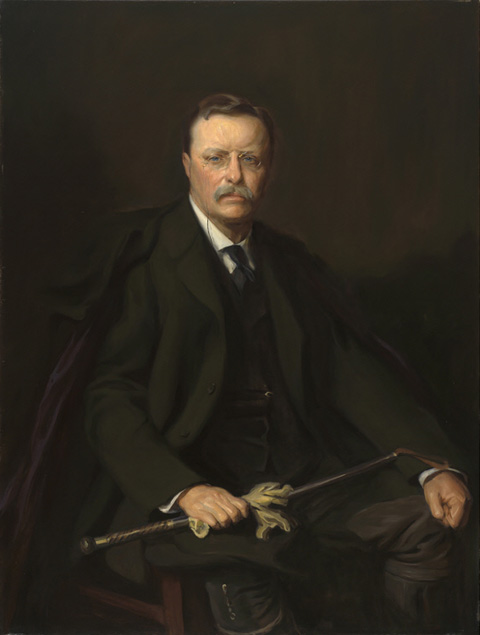 Theodore Roosevelt, 1858-1919
Twenty-sixth president, 1901–1909
Adrian Lamb (1901-1988), after Philip Alexius de László (1869-1937)
Oil on canvas, 1967, after 1908 original
Gift of the Theodore Roosevelt Association
Theodore Roosevelt by Adrian Lamb, 1967, copy after the original of 1908 by Philip Alexius de László, oil on canvas, four feet, three inches tall by three feet, three inches wide.
This impressive life-size portrait of the twenty-sixth president has a thick gilded frame. Roosevelt sits at an angle against a dark background. His body and legs point to our right, but he turns his head to look the viewer straight in the eye. The overall composition forms a pyramid, with his head at the top. His legs, which are cropped below the knees and spread wide, form the base.
Roosevelt's face is the focal point of the painting. While the rest of his body is in shadow, covered in many layers of dark clothing, his head and the hand on our left are boldly lit, as if by a spotlight. The brushstrokes are also thicker in these areas. Unblended, they follow the contours of his head and hand, animating this otherwise still figure. The President wears a pince-nez, or a pair of frameless glasses without arms, that draws further attention to his piercing bright blue eyes. The thin cord attached to his eyewear falls down over the left side of his face, and a neat curl of dark hair sits upon his wide forehead. Roosevelt furrows his brow in a slight frown, the skin noticeably tenser at the bridge of his somewhat bulbous nose. His closed mouth points downwards at the edges, and is topped by a bushy gray moustache.
Posed to show off his riding gear, Roosevelt rests his lower arms on his thighs. He balls the hand on our right into a fist at his knee. In the other hand, which sits further up on his thigh, he holds a riding crop and a pair of cream riding gloves. The crop stretches across his lap. Its ornate handle reaches toward the bottom left corner of the canvas while its leather tongue falls over his opposite hand.
A dark forest green riding cloak is draped over his shoulders and surrounds his body. It has been thrown open to reveal the deep purplish-black silken lining. Underneath, he wears a heavy wool jacket in the same green. It sits unbuttoned above a black waistcoat, which is fastened by a single, small golden buckle in the middle. The collar of his white shirt is visible, and he wears a dark blue necktie knotted at his throat. Likewise, the white cuffs of his sleeves emerge at the wrists of the green jacket. His dark brown trousers are tucked into heavy riding boots, and their thick flaps fold over his knees. At the bottom left of the canvas, part of the plain brown wooden frame of his chair is visible. Roosevelt's riding cloak is draped over the back leg of the chair, creating a strong diagonal line to his shoulder, which then draws our attention back to his stern expression. 
---
The portrait label reads as follows:
Theodore Roosevelt, 1858-1919
Twenty-sixth president, 1901–1909
An outsize personality who preached the benefits of the "strenuous life" while also being among the most learned of presidents, Theodore Roosevelt gained national prominence as a civil service reformer, a hero of the Spanish-American War, and a proactive governor of New York. After William McKinley was assassinated in 1901, Roosevelt took office and initiated one of American history's most reform-oriented presidencies. His contributions would include implementing efforts to conserve the nation's disappearing natural heritage, instituting some of the first significant curbs on the excesses of big business, and building the Panama Canal.
Despite having progressive views on labor and consumer issues, Roosevelt maintained conservative views on a number of social issues. For example, he felt convinced that a declining birthrate among old-stock Americans threatened the nation as a whole and therefore opposed immigration, birth control, and the redefinition of women's roles. Roosevelt was a fascinating bundle of contradictions, above all as a patrician who realized that unless essential reforms were initiated by government, American democracy was likely to fail.
Adrian Lamb (1901-1988), after Philip Alexius de László (1869-1937)
Oil on canvas, 1967, after 1908 original
Gift of the Theodore Roosevelt Association
NPG.68.28