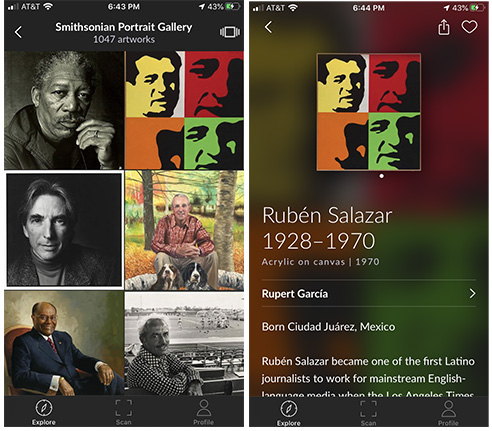 View the Collection on Your Mobile Device
Visitors can explore more than 1,000 artworks from the museum's collection and create a portfolio of their favorite portraits through the free app, SMARTIFY. The app provides myriad ways to experience portraiture and includes an audio tour with rich visual descriptions of portraits featured in the museum's signature exhibition, "America's Presidents." 
Addditional tours will be featured shortly.
---
Download the free SMARTIFY mobile app for a self-guided tour of our Permanent Collection.
Go to the Apple or Android app. store to download SMARTIFY.
Open the app. and hold your phone's camera up to a portrait to "scan" the work of art.
Learn about your favorite portraits now or save information and images for later.
Tours are available in English and Spanish
Scan the art, uncover the story.