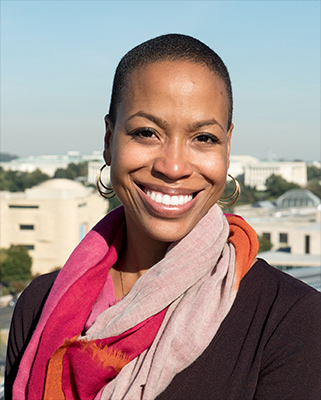 Director of Curatorial Affairs
As director of curatorial affairs, Rhea L. Combs works with the museum's Curatorial, History, Conservation and Audience Engagement departments to grow the Portrait Gallery's collection, develop impactful exhibitions, and draw connections between portraiture, biography and identity.
Combs joined the Portrait Gallery from the Smithsonian's National Museum of African American History and Culture (NMAAHC), where she served as curator of film and photography and head of the museum's Earl W. and Amanda Stafford Center for African American Media Arts. There, Combs curated the museum's inaugural photography exhibition, "Everyday Beauty: Photographs and Films from the Permanent Collection," as well as "Represent: Hip-Hop Photography" and "Watching Oprah: The Oprah Winfrey Show and American Culture." She also organized exhibitions ahead of the museum's official opening, such as "Through the African American Lens: Selections from the Permanent Collection of NMAAHC" and "Rising Up: Hale Woodruff's Murals at Talladega College," a collaboration with the High Museum of Art in Atlanta.
During her time as a curator at NMAAHC, Combs also established the Smithsonian African American Film Festival and the innovative media preservation program called "Great Migration Home Movie Project," which provides visitors with the tools they need to digitize their analog home movies. She is a co-curator of the forthcoming exhibition "Regeneration: Black Cinema, 1898–1971," which will be presented at the Academy Museum of Motion Pictures (opening September 2021).
Combs has taught graduate courses on visual culture, film, race and gender and has independently curated film exhibitions nationally and internationally for the Schomburg Center for Research in Black Culture in New York City, Black Public Media, and the Institute of Contemporary Arts in London.
She received a BA from Howard University and an MA from Cornell University before earning a PhD from Emory University. Combs's writings, which often center on Black popular culture, visual aesthetics, African American female filmmakers, and other aspects filmmaking and photography, have been featured in anthologies, academic journals and exhibition catalogues.