1968: Arthur Ashe—Part One
The National Portrait Gallery's screening on September 10, 2018, of Time Capsule: 1968, produced by the Smithsonian Channel, was not only an opportunity to celebrate the Portrait Gallery's 50th anniversary, but a chance to learn or remember one of the most chaotic years in recent American history.
The year immediately got off to a bad start with the escalation of the Vietnam War during what was expected to be a celebration of Tet, the Vietnamese New Year, when instead the Viet Cong used Tet as an opportunity to deliver a major blow to American troops, who were cut off for 18 days and suffered 16,000 casualties either through death or capture.
The year didn't improve when, in April 1968, Martin Luther King Jr. was assassinated during his participation in the garbage worker's strike in Memphis, Tennessee.
Predictably the grief and rage over King's assassination was manifested in riots in cities across the country, including Washington, DC. 
Then in June, Bobby Kennedy was assassinated during his run in California's democratic presidential primary.
The Democratic national convention brought on even more violence when Chicago police and anti-war demonstrators clashed—and not metaphorically.
At the 1968 Olympics in Mexico, black athletes formed what they named the Olympic Project for Human Rights. John Carlos and Tommy Smith, along with their fellow Australian team mate, protested the absence of those rights for people of color by raising their fists on the platform where they were being awarded medals, acts for which they were sent out of the country and banned from the Olympics.   
Someone was quoted as saying "the country was having a nervous breakdown." It was certainly a year to remember; one that I acutely recall.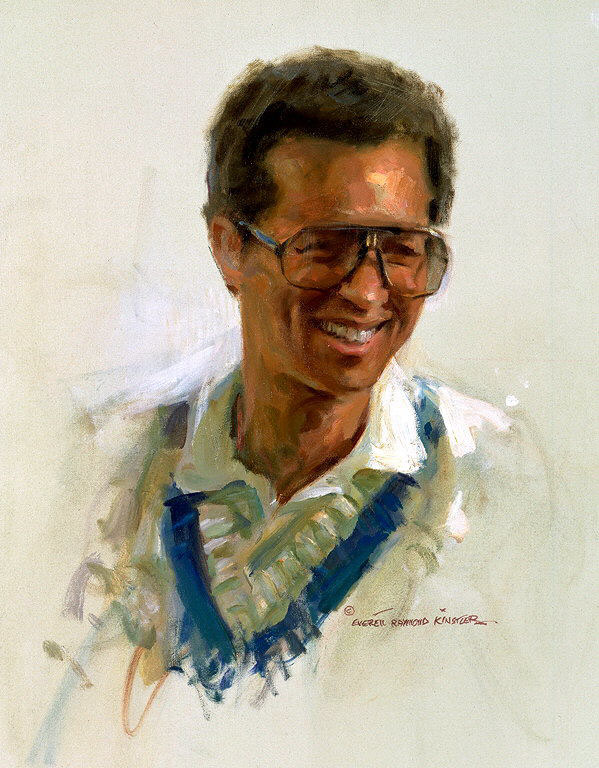 However, another event occurred in 1968 that had special significance to me and personally gave me inspiration: Arthur Ashe became the first black man ever to win the U.S. Open.  He was from Richmond, Virginia, my hometown, and he was a close friend of my brother Randall, and so I knew him. And because we are now at the end of the 2018 U.S. Open, I am remembering Arthur while watching the finals, not only as the national hero he was to African Americans all over the county, but as the personal hero that he was to our entire family. (My sister Jean attends the Open every year. Richmond was a tennis town.)
I remember Arthur as a skinny little boy who played and swam at what we, as children, called Brookfield Playground. Though later referred to as Brookfield Park, the "park" was still a racially segregated area for blacks only, at the time, one for which Arthur's father was custodian and groundskeeper. Arthur's father was a man who was feared by every child who ever crossed his path in an attempt to swim or play at Brookfield. A single parent and a stern disciplinarian, he was determined that his two sons would stay out of trouble and make a success of their lives. Arthur's mother had died when he was only five years old, and one of the results was that his father, in an effort to protect his young sons, instituted draconian practices, such as allowing him only 12 minutes for his daily walk home from school every afternoon, a schedule he kept until he left town to begin his training for a career in tennis at ten years old. And from what I remember of the man, but for that move, Arthur might have kept that schedule until he went to college. Though I disliked Mr. Ashe as a child, I feel more charitably toward him now; he was not unlike most of the parents I knew growing up: conservative, overly protective and stern. They knew of the dangers that could beset a black child, particularly a boy, when we, as children, could not have imagined such things.
Arthur began playing tennis when he was seven years old. His natural ability was recognized by a part-time Brookfield tennis instructor who began giving Arthur basic tennis lessons. When those lessons revealed his enormous talent, he attracted the attention of physician Dr. Robert Johnson, the founder and funder of the Junior Development Program of the American Tennis Association, the oldest African American sports organization in the United States. Arthur was coached and mentored by Johnson from 1953, when he was ten years old, until 1960. Johnson, who had coached tennis great Althea Gibson, taught him racial socialization, sportsmanship, etiquette and the composure for which he became so well known. Little did Arthur know that he was being prepared to play in the age of John McEnroe and Jimmy Connors, where his cool temperament and quiet demeanor would make him an anomaly on the tennis courts of that era.