1968: Arthur Ashe—Part Two
In 1963, Arthur Ashe became the first black player to win the National Junior Indoor Tennis title, he also won a tennis scholarship to UCLA. By the time Arthur graduated from UCLA in 1967, he had a degree in business administration and a commission in the United States Army, having joined ROTC. At this point he might have been called to serve in Vietnam, but for his brother, Johnnie, five years his junior. When Johnnie completed his own tour in Vietnam, he re-upped (military slang) in order to forestall Arthur's being sent over. It was U.S. military policy not to send brothers into active duty in a war zone at the same time. By taking the unusual and generous step of serving a second tour in Vietnam, he spared Arthur to pursue a career in tennis. And pursue it he did.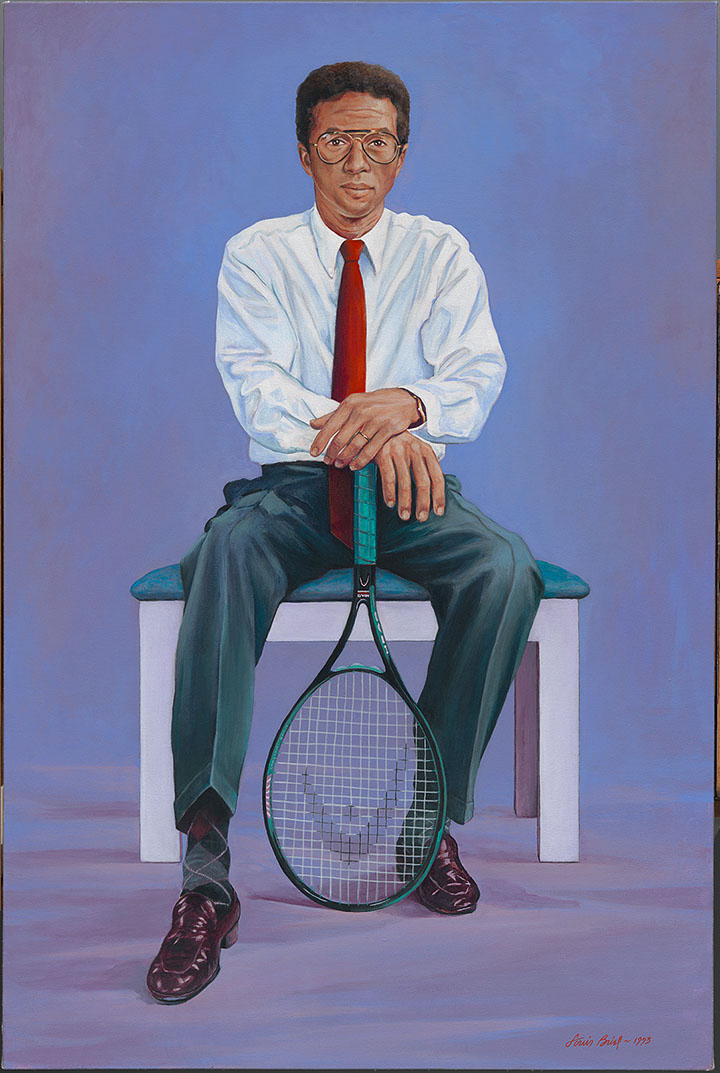 By this time, Arthur was gaining top ranking. He was the first black person on the U.S. Davis Cup team, and the first black captain, in 1963. He became the first and only black man to win three Grand Slam titles, the U.S. Open (1968); the Australian Open (1970); and Wimbledon (1975); and he won the U.S. Amateur title the same year (1968) as the U.S. Open. Arthur was the first African American man to be ranked #1 in the World, and in 1985, he was inducted into the Tennis Hall of Fame. Today, the largest and most prestigious arena at the U.S. Open is named for him.
As a sports celebrity, Arthur was expected to participate in Civil Rights demonstrations and protests, activities for which his emotional temperament and conservative upbringing rendered him ill-equipped to participate. Billie Jean King was quoted as saying "I'm blacker than Arthur." However, his own personal experience of being denied the right to participate in the Davis Cup matches in South Africa, because of his criticism of apartheid, prompted his change of heart and attitude. To quote Arthur,  "I hate injustice more than I love decorum." And so he began to work on issues that were important to him personally. He helped found the National Junior Tennis and Learning Network, an organization designed to make tennis more accessible to minorities and the poor, which today gets significant funding from USTA. He also joined my brother Randall, then the head of TransAfrica, to help lead Artists and Athletes Against Apartheid, in demonstrations against the apartheid regime of South Africa, one goal of which led to the freeing from prison of Nelson Mandela. When Arthur developed heart disease and retired from tennis in 1980, he served as Chairman of the American Heart Association; when he contracted AIDS as a result of a blood transfusion for one of several heart and brain surgeries, he worked as an activist in the AIDS movement. At the same time, he found a way to author his three-volume history A Hard Road to Glory: A History of the African Athlete (1988).
Born on July 10, 1943, Arthur Ashe died on February 6, 1993 from AIDS-related pneumonia, at the age of 49. His body lay in state in the Governor's Mansion in Richmond, Virginia, at the invitation of his friend, then-Governor Douglas Wilder. Over five thousand mourners walked by his casket in the Arthur Ashe Youth Center where his funeral was officiated by the Reverend Andrew Young. (My brother Randall spoke at his funeral, which was also attended by my sister.)  At his request, he was buried alongside his mother, Mattie Cunningham Ashe, at Woodland Cemetery in Richmond.
Today, along Richmond's Monument Avenue, a statue of Arthur Ashe by sculptor Paul DiPasquale stands amid controversy and Confederates, notably the statues Generals Robert E. Lee, J. E. B. Stuart, Jefferson Davis, and Stonewall Jackson. 
Before the U.S. Open began the first of its 2018 matches, the USTA recognized its fiftieth anniversary and Arthur's historic win in 1968 by presenting an American flag to his brother Johnnie Ashe.  
You came a long way, baby!