1968 U.S. Open: Arthur Ashe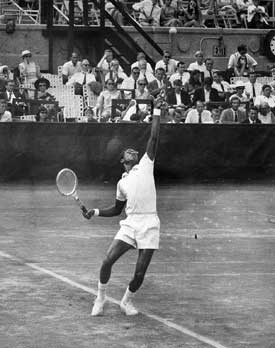 Forty years ago, white was the color traditionally associated with top-tier international tennis. In those days it was the regulation color for both tennis balls and tennis attire and, judging from this view, was the clothing color choice for many of the all-white spectators sitting at courtside. This 1968 photograph of Arthur Ashe, by Walter Kelleher, is part of the collections at the National Portrait Gallery. 
The presence of Arthur Ashe (1943–1993), a native of the formerly segregated city of Richmond, Virginia, was extraordinary and timely: he was playing for the title in the 1968 U.S. National Championships at Forest Hills, New York. This first U.S. Open took place during the twilight of a summer of racial discord and inner-city rioting, following the April assassination of civil rights leader Martin Luther King Jr. Yet the immensely talented Ashe, with characteristic nonchalance for courtside spectacle, was just going about the business of playing tennis while making sporting news and history.
Ashe's splendid semifinal match with fellow American Clark Graebner inspired writer John McPhee to pen Levels of the Game (1969), an insightful book in which he intertwined profiles of the two dissimilar contestants with riveting vignettes of their classic tennis match.
In the final, Ashe beat Tom Okker of the Netherlands in five sets and became the first African American to win the men's title. That year ushered in tennis's "open" era, in which professionals were allowed to compete for prize money in major tournaments traditionally played only by amateurs.
Still an amateur himself in 1968, Ashe forfeited the winner's purse of $14,000. His amateur status, however, made him eligible to play in the Davis Cup later that fall, along with Graebner, in which the United States won the coveted title.
Ashe went on to win thirty-three singles and eighteen doubles titles—and twice reached the world's number-one ranking—before he retired in 1980. In addition to his U.S. championship, Ashe won two more grand slam events—the Australian Open (1970) and Wimbledon (1975).Only the French title eluded him; in the history of the game only five men have ever won all four grand slam titles.
Throughout his career, Ashe was a model of sportsmanship. He pursued tennis as a worthy pastime, always cognizant that his own stature and talent could be a positive influence both on and off the court, especially as a role model for underprivileged youth. To his credit, professional tennis never totally consumed him as it did many of his racquettoting peers.
Ashe was sometimes challenged in ways far greater than the competition he faced across the net. In 1969, he was denied a visa to play in the South African Open because of that country's apartheid policy. Ashe's subsequent call for the expulsion of South Africa from the professional tennis circuit won many supporters and helped to call attention to apartheid worldwide.
Ashe continued to be an influential voice for civil rights and social causes throughout his career and into retirement, as well as an occasional television sports commentator and newspaper columnist. A former college tennis champion at UCLA, he seemingly prized his degree in business administration as much as any tennis trophy and always exhorted talented young athletes to pursue a college education first before betting their futures on the alluring but unpredictable world of professional sports.
A family history of heart disease unfortunately did not spare Ashe, who appeared to be in excellent physical condition. But in 1979, still a young man, he suffered a heart attack and underwent major heart surgery, the first of two operations. It is believed that tainted blood from a transfusion at the time of the second surgery, in 1983, infected him with HIV. Ashe died from complications from AIDS at age forty-nine on February 6, 1993.