40th Anniversary of the Death of Dr. Martin Luther King Jr.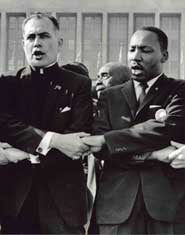 Forty years ago, on April 4, 1968, Dr. Martin Luther King Jr. was assassinated at the Lorraine Motel in Memphis, Tennessee.  As one of the founders and the first president of the Southern Christian Leadership Conference, Dr. King worked from the 1950s until his death as a proponent of nonviolent civil change.  In his autobiography he states, "All my adult life I have deplored violence and war as instruments for achieving solutions to mankind's problems.  I am firmly committed to the creative power of nonviolence as the force which is capable of winning lasting and meaningful brotherhood and peace."
Having completed his doctoral degree in systematic theology at the Boston University School of Theology, Dr. King's advocacy began in 1955 with his election to the executive committee of the Montgomery, Alabama chapter of the National Association for the Advancement of Colored People.  Beginning with the Montgomery bus boycott in 1956, his name was synonymous with the civil rights movement and, again, nonviolence.  He declared early in 1956 in the New York Times, "If we are arrested every day, if we are exploited every day, if we are trampled over every day, don't ever let anyone pull you so low as to hate them. We must use the weapon of love."
Dr. King was arrested thirty times for protest activities and suffered the bombing of his home in Montgomery during the bus boycott.  He received twenty honorary doctoral degrees from universities both domestic and international, and in December of 1964, he became the second American (after Woodrow Wilson) to receive the Nobel Peace Prize.  His "Letter from the Birmingham Jail," written in April of 1963, is widely taught in university rhetoric and writing classes because of its sophisticated and compelling series of appeals.  Cities throughout America have streets named after him and the site of the Lorraine Motel in Memphis is now the home of the National Civil Rights Museum.  The King Center in Atlanta continues to serve Dr. King's mission to promote the rights of the marginalized and oppressed.
Sources and references:
-The Autobiography of Martin Luther King, Jr., Clayborne Carson, Editor
-The King Center, Atlanta, Georgia