Aaron Burr: Forgotten Feminist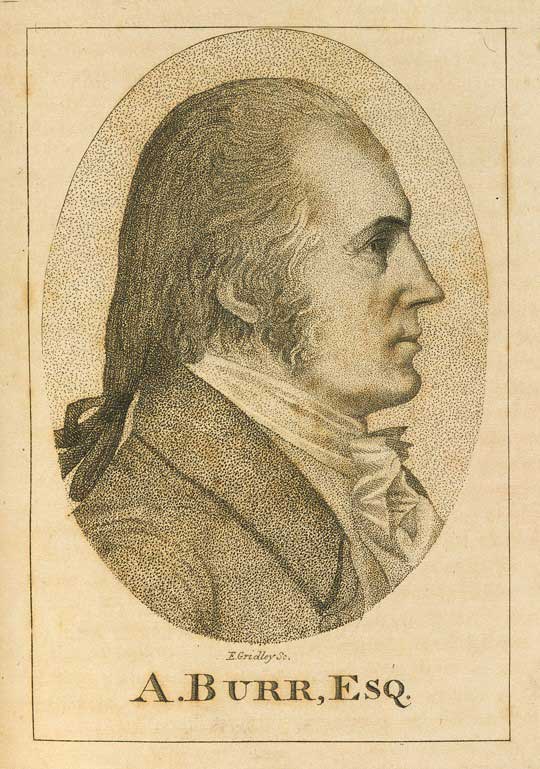 Powerful political rivals vilified Aaron Burr during his lifetime, and for the next 200 years historians and novelists largely followed suit. The former senator from New York and U.S. vice president under Thomas Jefferson has been characterized as an ambitious opportunist who attempted to "steal" the 1800 election from Jefferson; a cold-blooded murderer who thought nothing of killing Alexander Hamilton in a duel in 1804; and a traitor who supposedly tried to annex Spanish territory in Louisiana and Mexico and establish himself as the ruler of a new empire.
In recent years, a less dastardly Aaron Burr has come into focus. More democratic in his political philosophy than either Hamilton or Jefferson, Burr is now recognized as an early advocate of reforms aimed at making America a more egalitarian country. He proposed abolishing slavery in 1785, broke the Federalists' New York banking monopoly in 1799, and eloquently defended the rights of naturalized immigrants the same year.
Above all else, it is Burr's enlightened advocacy of women's rights that has made him appear more heroic than villainous of late. In a series of tweets defending Burr from his detractors, Hamilton playwright Lin-Manuel Miranda recently praised Burr as "an ardent feminist" who "was ahead of his peers."
Burr credited his wife, the former Theodosia Prevost, with opening his eyes to the intellectual capacities of women. But it was his daughter, also named Theodosia, who attuned him to the importance of gender-neutral education in developing a woman's full potential. Not long after his daughter's birth in 1783, Burr became obsessed with providing her with every educational opportunity. By the age of three, she had learned to read and write, and by her tenth birthday she had finished all six volumes of Edward Gibbons's monumental tome, The Decline and Fall of the Roman Empire. Theodosia's mother helped implement the educational curriculum, and when she died in 1794 Burr encouraged a French governess, Mme. Senat, to establish a school at his New York townhouse for his daughter's benefit. He also invited the governess's aristocratic young charge, Natalie Delage, to live with Theodosia as her constant companion and model of European sophistication.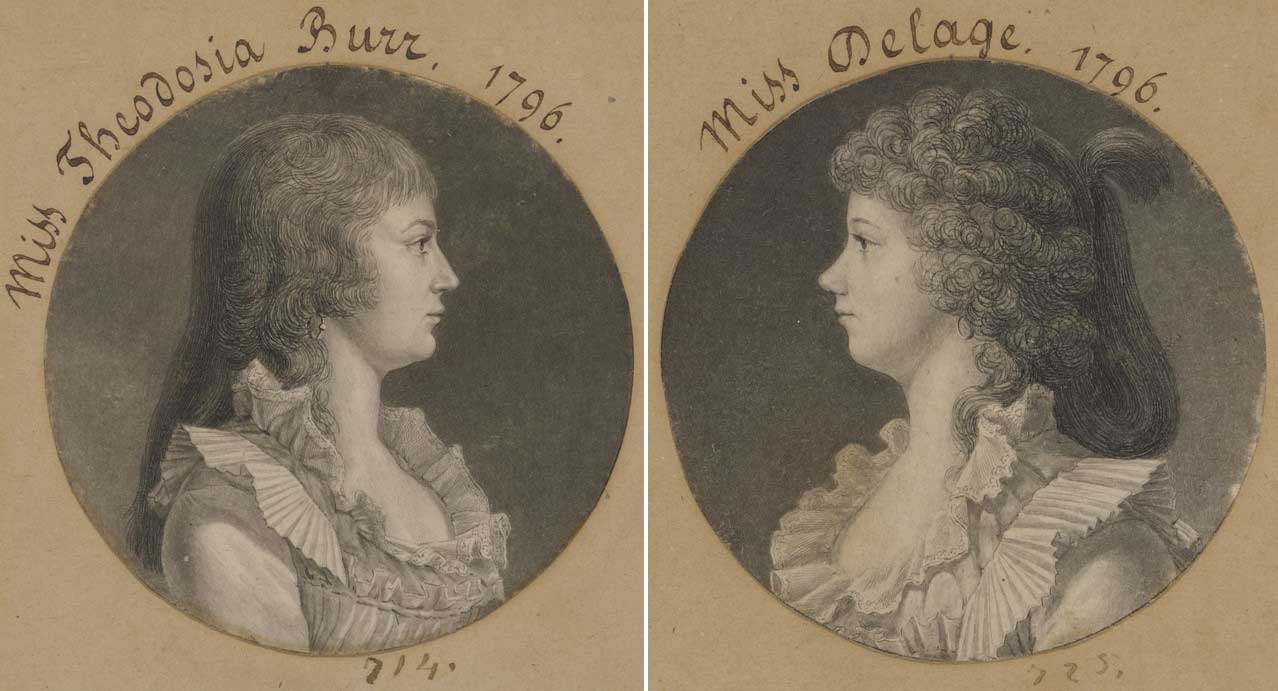 Fortunately, Burr's matchmaking proved successful, and the girls—just eight months apart in age—became lifelong friends. Their appearance at age thirteen was captured in 1796 by a pair of engraved profile portraits that are now part of the National Portrait Gallery collection. Also in 1796, Theodosia's tutor, Michel Martin, dedicated his new textbook to her, citing her father's belief "that women, whatever may be said, are capable of the same kind of genius as men," and his hope that by "developing within you the distinctive qualities of a man," Theodosia might "avenge your sex of the conceit as well as the tyranny of laws and conventions that enchain women within a bastion of ignorance."
In 1801 seventeen-year-old Theodosia Burr married Joseph Alston, future governor of South Carolina, and they became the first celebrity couple to honeymoon at Niagara Falls. Three years later, in a letter sent to his son-in-law the night before his duel with Alexander Hamilton, Burr fretted over Theodosia's fate should he die. "Let me entreat you to stimulate and aid Theodosia in the cultivation of her mind," he begged Alston. "It is indispensable for her happiness and essential to yours." Knowing that his egalitarian views were not shared by most men—perhaps not even by his daughter's husband—Burr added, "If you should differ with me as to the importance of this measure, suffer me to ask it of you as a last favor."
As it happened, Burr did not die. Instead, he killed Alexander Hamilton with a shot that proved fatal to his own career and reputation. It was Theodosia who met an untimely end, lost at sea in 1813 while on her way from South Carolina to New York to greet her father on his return from European exile. Documents that might have countered the charges of Burr's enemies are believed to have perished with her.