Alexander Gardner's Iconic Portrait of Lincoln Turns 150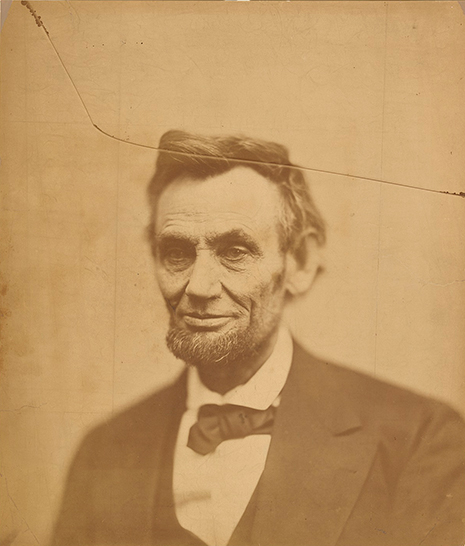 Today is the 150th anniversary of the accidental creation of one of the most iconic portraits in American history: Alexander Gardner's "cracked-plate" image of Abraham Lincoln, which was made at a sitting at Gardner's Washington 7th Street, NW, studio on Feb. 5, 1865.
Only one such image exists because the glass plate—the medium that predated film—cracked when Gardner applied the emulsion to it that would create the image. He pulled one portrait and then threw the plate away.
Perhaps because of its singularity and the circumstances of its creation, this image of Lincoln has a special power. Taken at the end of the Civil War, it shows that he is confident of winning the war and looking forward to the "binding up of the Nation's wounds." Lincoln is exhausted and the lines on his face are etched deep, but there is nonetheless a small, enigmatic smile on the president's face.
But this is also Lincoln between life and death. Looking back at the photograph from 150 years, we are fully conscious of what he could not know: he would be killed at war's end in April. While he was looking forward to his future, we know that that future will collide with the reality of what will happen at Ford's Theatre on April 14.  The cracked plate image, capturing Lincoln at this moment, is part of the process by which Lincoln was transformed, after the assassination, from historical figure to mythological presence in America. When Lincoln died Secretary of State William Seward remarked, "Now he belongs to the ages." That transformation began before Lincoln's death with the creation of Alexander Gardner's "cracked-plate" portrait.
The original photograph will be on view Feb. 12 through Feb. 16 in honor of Presidents Day weekend. The unique print will next be displayed as part of the exhibition "Dark Fields of the Republic: Photographs by Alexander Gardner," open Sept. 18, 2015, through Mar. 13, 2016.