Antonio Martorell and Nicholasa Mohr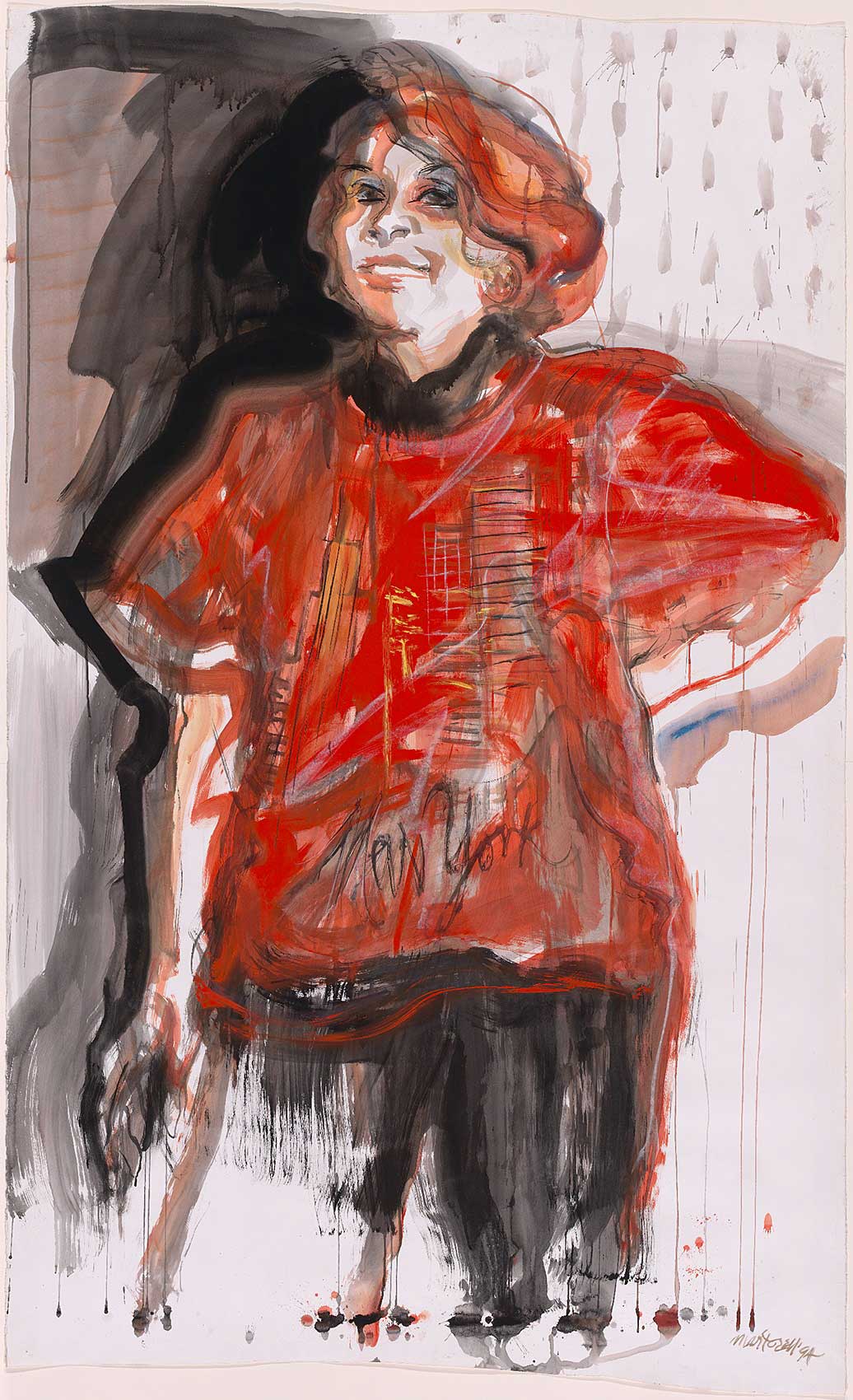 The portrait of prolific Latina author Nicholasa Mohr by Antonio Martorell is larger than life, painted with brilliant reds and oranges. Mohr is wearing her characteristic beaming smile and a shirt with "New York" spelled out in front of gesturally drawn skyscrapers. This portrait, which can be found in the National Portrait Gallery's "Recent Acquisitions" exhibition, is just one example of the partnership between the two artists. Mohr and Martorell's collaboration here and in their children's book, The Song of el Coquí and Other Puerto Rican Tales (1995), unifies the distance between Puerto Ricans living on the island and those in the diaspora. Their work complicates how we understand culture and identity in light of Puerto Ricans' unique position as Latin American migrants from the Caribbean with U.S. passports.

The title subject for the children's book, the coquí, is a small frog native to Puerto Rico and is famous for the distinctive and boisterous song it sings throughout the night. The coquí is celebrated as uniquely Puerto Rican—a cultural symbol with a sound native to Puerto Rico.

In many ways Antonio Martorell is also a cultural symbol. A native of Santurce, Martorell cultivated his career within Puerto Rico's rich artistic traditions. After finishing his schooling in diplomacy at Georgetown University, Martorell changed course and moved to Spain to study art. Subsequently, he returned to San Juan as a student of printmakers Lorenzo Homar and Rafel Tufiño. Working with Homar and Tufiño places Martorell in line with a history of artists who worked to cultivate an artistic culture that spoke to the experience of living on the island. Martorell pushes this artistic tradition further to incorporate travel between the mainland United States and the island with installations such as From Here to There (2010), which resembles the airplanes that brought Puerto Ricans to New York in the twentieth century. 

The coquí's mythology has similarly come to symbolize the diaspora. According to myth, the coquí can only survive in Puerto Rico and will die if taken elsewhere. This myth has been proven false, however, as a large population now resides in Hawai'i, much to the dismay of the local population, as their distinct song is described as a "loud, incessant and annoying call from dusk to dawn."1 The coquí narrative encompasses the challenges that face Puerto Ricans in the diaspora: Can Puerto Ricans and Puerto Rican culture survive outside of the island, and will they be accepted if they leave?

Nicholasa Mohr's novels challenge these questions. In her essay for The Americas Review, Mohr explains that her first book, Nilda (1974), traces "one family's position as they deal with their alienation as despised migrants, as well as their psychological, emotional, and physical attempts to sustain the family in a traditional Puerto Rican manner."2 The family in Nilda must deal with animosity in a new location and also work to preserve a sense of Puerto Rican culture and identity. 
______________________________________________
1 Sara Lin, "Tiny coqui frog becomes a big problem in Hawaii," Los Angeles Times, December 27, 2014. Accessed December 17, 2015. http://www.latimes.com/nation/la-na-coqui-frog-hawaii-20141228-story.html.
2 Nicholasa Mohr, "Puerto Rican Writers in the United States, Puerto Rican Writers in Puerto Rico: A Separation beyond Language," The Americas Review: A Review of Hispanic Literature and Art of the USA 15 (Summer 1987): 87–92.