April 15, A Day of Certainties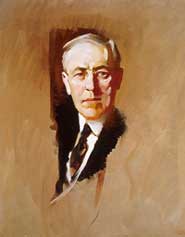 April 15 connotes a day of great civic participation in American government; it is the day, of course, income taxes come due as stipulated by the 16th Amendment to the Constitution, ratified in 1913 during the presidency of Woodrow Wilson. 
This portrait of Woodrow Wilson can be viewed in the "America's Presidents" exhibition, on the museum's 2nd floor.  And you can see the 1913 version of the form 1040 (as a PDF) by visiting the IRS website at: www.irs.gov/pub/irs-utl/1913.pdf
Of tragic note on this date, Abraham Lincoln died at 7:22 in the morning of April 15, 1865, after having been shot by the actor and southern fire-eater John Wilkes Booth on the previous evening. On the night of the 14th, Lincoln and his wife had gone to Ford's Theatre to see a production of Our American Cousin with the actress Laura Keene as the main attraction.
As actor Harry Hawk, playing the title character Asa Trenchard, finished the line "you sockdologizing old mantrap," he was greeted with laughter and applause from the audience. At that moment, Booth fired the fatal shot and then jumped from the presidential box onto the stage, screaming out "Sic Semper Tyrannis"—the Virginia state motto, meaning "Thus Always to Tyrants."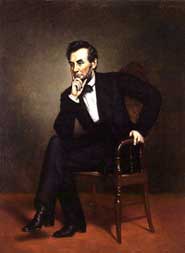 In the pandemonium that followed, Booth escaped, despite having broken his leg when landing on stage. When Lincoln died, allegedly Edwin Stanton uttered the phrase, "Now he belongs to the ages." Booth was tracked into southern Maryland and shot to death on April 26.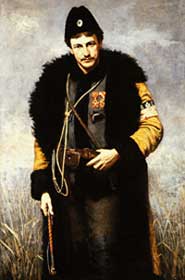 April 15 also marks the commemorative anniversary of the sinking of the Titanic.  American artist and journalist Francis Davis Millet, a man who knew no bounds as a travel writer and who also served as director of the American Academy in Rome, was one of the 1, 513 passengers who died when the great ocean liner sank in 1912.  This portrait of Davis Millet was painted in 1878 by George Willoughby Maynard and is part of the National Portrait Gallery's collections.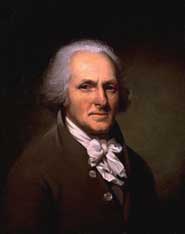 On the more positive side of this date in history, Charles Willson Peale (right), painter, inventor, naturalist, museum builder, and patriarch to a large and talented family, was born on April 15, 1741 near Chester Town on the eastern shore of Maryland. He painted this self-portrait in 1791; it is also part of the museum's collections.   
Sources:
David C. Ward
Carolyn Kinder Carr and Ellen G. Miles, A Brush with History: Paintings from the National Portrait Gallery, NPG, SI, 2001.