August 3, 1923: Calvin Coolidge Ascends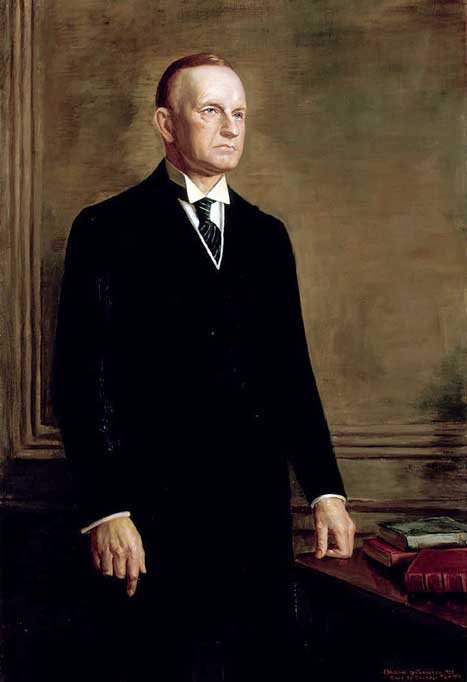 By Caroline Larson, Intern, National Portrait Gallery
The only U.S. president to be born on Independence Day, John Calvin Coolidge was born in 1872 in Plymouth Notch, Vermont. He graduated from Amherst College and read law with a local firm. He opened his own law office in 1898 and married Grace Anna Goodhue in 1905. Although the couple had opposite personalities—Grace was vivacious and talkative and Calvin was quiet and serious—their marriage was happy, and they had two sons.
Coolidge began his political career when he was elected to the Northampton, Massachusetts, City Council in 1898. He served in various political offices, including the state House of Representatives and Senate. He was elected lieutenant governor in 1915 and became governor in 1918. The most memorable event during his time as governor was the Boston Police Strike in 1919, and Coolidge's calm handling of the situation propelled him to national prominence. Coolidge was unexpectedly nominated as the vice-presidential candidate of the Republican Party in 1920. He and Warren G. Harding won the election in a landslide victory.
On August 2, 1923, President Harding died. Coolidge's father, a notary public, administered the oath of office to his son at 2:47 a.m. on August 3, 1923. Though Coolidge supported many of the same causes as Harding, he worked to eradicate the corruption of Harding's administration. Coolidge was elected for a second term in 1924, campaigning while mourning the death of his younger son, Calvin Jr., who died suddenly after developing blood poisoning.
As president, Coolidge supported business, signed the Immigration Act to limit foreign immigrants, lowered taxes, and reduced the federal debt. He also spoke out in favor of civil rights and helped engineer the Kellogg-Briand Pact of 1928, which was intended to outlaw war. He was known as "Silent Cal," a nickname best illustrated by an occasion when a woman he was dining with told him she had bet that she could get three words of conversation from him. He solemnly replied, "You lose."
In 1927 Coolidge announced that he would not run for reelection and retired to his Northampton home. He died of a heart attack on January 5, 1933.The portrait of Coolidge by Joseph E. Burgess conveys Coolidge's thoughtful demeanor. He is portrayed as being reserved, yet intelligent and determined.