Beatles, Meet America. America, Beatles.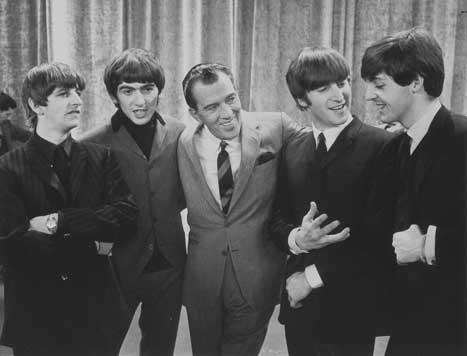 THis blogpost originally appeared on February 9, 2009.
By 1964 the Ed Sullivan Show had been around for 16 years, and an appearance on the weekly prime-time show was often a barometer for the success of musical acts. In late 1963, Ed Sullivan had experienced a taste of Beatlemania while in London and had booked the Beatles for three consecutive weeks, starting on February 9. By February 1, 1964 "I Want to Hold Your Hand" had hit number one on the charts, and the excitement over the Beatles first U.S. performance had reached a fever pitch.
Being the consummate showman, Ed Sullivan had scheduled the Beatles to perform at the beginning of the February 9 show, where they played ""All My Loving," "Till There Was You" and "She Loves You," and again at the end of the show, when they played "I Saw Her Standing There" and their #1 single "I Want to Hold Your Hand." Seventy-three million Americans were glued to their sets for an hour, prompting Washington Post editor B.F. Henry to say that "during the hour they were on Ed Sullivan's show, there wasn't a hubcap stolen in America." While this is obviously hyperbole, it does speak to the extent of America's fascination with this new British sensation. The Beatles first two appearances on the Ed Sullivan Show still rank in the top-50 most watched TV shows of all time, and in 1964 their first appearance with 73 million viewers was the most watched show ever at the time.
Ed Sullivan often had a frosty relationships with his musical guests, and it was said he could brighten a room just by leaving it. When Bo Diddley appeared on the show and performed different songs from what Ed wanted, Ed told him he would never be on television again. When Bob Dylan was told he couldn't perform "Talkin' John Birch Paranoid Blues" he walked off the show. And when the Doors lead singer Jim Morrison wouldn't change the line "girl we couldn't get much higher" from their hit song "Light My Fire," Ed told them they would never be on the Ed Sullivan Show again, to which Morrison famously replied, "Who cares? We just did Ed Sullivan." But Ed's relationship with the Beatles was much better, as the group would often record special videos to premiere new songs exclusively on the show.
This photograph of Ed Sullivan and the Fab Four is part of the collections at the National Portrait Gallery. It seems to have been taken after the Beatles had finished their performance of "I Want to Hold Your Hand" on the February 9th telecast. While the set of Studio 50 could only hold 728 audience members, it was predominantly packed with teenage girls in a fervor over John, Paul, George and Ringo, which made the shrieks seem like there were thousands. The photo shows the Beatles as America first saw them. Four shaggy haired, strange talking Brits who swept America by storm in the 60's, started the musical British Invasion, and became pop culture icons, in no small part due to the landmark Ed Sullivan Show broadcast.