Beneath the Surface, an Unusual Installation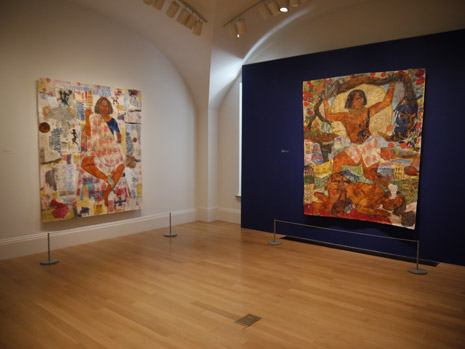 One of the aims of traditional curatorial practice is to display works of art so that the efforts of the curators, conservators, art handlers, and installation team are invisible. Hiding those efforts is part of the "museum magic." Once the evidence of the museum team is gone, the viewer ideally experiences the art without the distraction of hanging hardware, exposed wires, and the trappings of engineering. Sometimes, however, getting a piece of art onto a wall is an act of artistic and engineering merit on its own.
In the National Portrait Gallery's current exhibition "Portraiture Now: Drawing on the Edge," the works of Mequitta Ahuja compelled a treatment that combined no small amount of smoke and mirrors. Ahuja's larger works are fragile and unwieldy; two of them—Mocoonama and Meecoo Mocoo—are monumental, each measuring more than five feet horizontally and six feet vertically.
Moreover, handling them is something of a task, as they consist of collaged vellum paper with acrylic, colored pencil, and enamel. Framing of works this size is cost-prohibitive in many cases. Conservator Rosemary Fallon said that the works "could have been displayed by traditional means but yes, it would have been expensive. In my opinion there is something about the pieces that are almost mural-like, meaning that they invoke a more immediate response from the viewer."
Michael Baltzer, NPG exhibition designer, also recently discussed the installation of the Ahuja portraits. Baltzer commented, "The collage works by Mequitta Ahuja presented a challenge that's common in contemporary art installation: how to install large unframed/unprotected works on paper at multiple venues in a way that doesn't cause preventable wear or infringe on the artist's aesthetic sensibilities." Of the process, Fallon said, "This was a creative solution to make the drawings appear as if they were floating; i.e., suspended in air."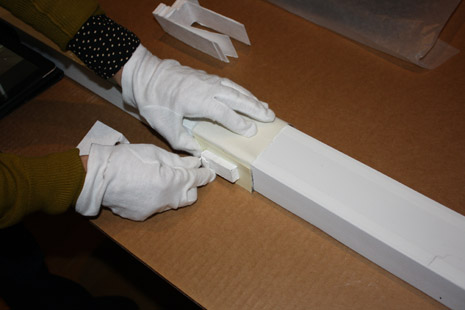 In this case, the answer was to suspend the works with a support structure that is invisible to the viewer; the drawings were mounted with Japanese paper hinges and reversible adhesive at regular intervals on the back. They were then attached to wood frames using magnets covered with soft Tyvek and then mounted on the gallery walls.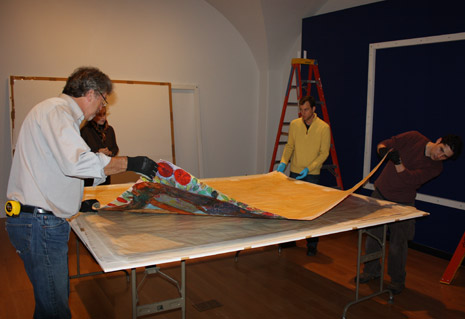 The visual effect of the installation is that of a portrait that seems to be floating away from the wall. The paper hinges were aligned with metal plates inset along the sides of the wood frame; the hinges were folded down onto those metal plates and secured in place with the Tyvek-covered magnets.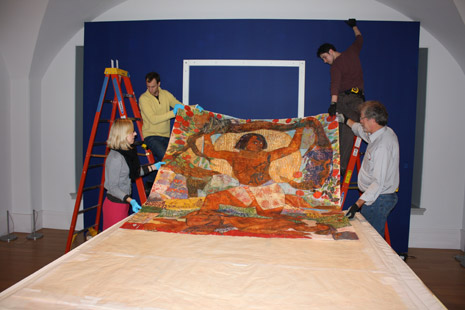 "By creating a support system that's simple to assemble and disassemble with recessed steel plates, and mounting the work with a series of hinges and magnets, we were able to ensure that the work would be installed over and over with minimal risk and wear," Baltzer added.
--Warren Perry, Catalog of American Portraits, with special thanks to Rosemary Fallon and Michael Baltzer for their help in preparing this article