Charlton Heston long in NPG memory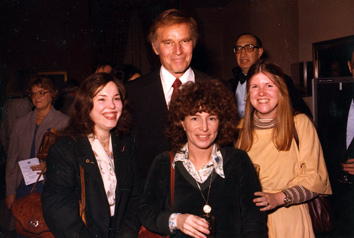 Charlton Heston, a giant among actors and a giant among activists, as well as a contributor to National Portrait Gallery programming efforts in the 1970s, passed away on Saturday, April 5, 2008, with his wife of sixty-four years at his side. His unforgettable appearances in such epic films as Cecil B. De Mille's The Ten Commandments (1956) and William Wyler's Ben Hur (1959) are monuments in cinematic history. Both movies are now classics, and Heston's performance as Judah Ben Hur earned him the Academy Award for Best Actor. Never afraid to test new waters, he portrayed the astronaut Colonel George Taylor in Planet of the Apes (1968) and Robert Thorn in Soylent Green (1973), innovative roles in science fiction that were as quotable as they were groundbreaking. He was also widely recognized for his portrayal of Michelangelo in The Agony and the Ecstasy (1965).
His work for the Screen Actors Guild and the National Rifle Association occupied much of Heston's time from the mid-1960s until his retirement from public life in 2002, after being diagnosed with Alzheimer's disease. Heston served as president of SAG from 1965 to 1971 and as president of the NRA from 1998 to 2003. He was awarded the Presidential Medal of Freedom in 2003 and, much earlier in his career, marched on Washington in 1963 with Martin Luther King Jr.
Charlton Heston's work extended to the very doors of the National Portrait Gallery. He volunteered his services as the narrator for Faces of Freedom, a half-hour film tracing the history of the United States through portraits in NPG's collection. It premiered in July 1977 and was shown daily to orient visitors, and to introduce other audiences to what this comparatively new museum was all about. In appreciation for his magnificent delivery (he was chosen as narrator with Moses in mind), Heston was awarded the silver gilt Copley Medal, an honor bestowed on those who have made significant contributions to NPG. At a gala evening presentation in 1980, Heston stood in the Great Hall to hear Secretary Dillon Ripley proclaim "a handsome medal for a handsome man."
Many NPG staffers have fond memories of the 1980 gala. Linda Thrift of CEROS also remembers Heston as a handsome man, adding, "He was gracious and he had that smile on his face." Beverly Cox, director of exhibitions and collections management, says of Heston, "I remember being overwhelmed by his sense of presence and was pleased to see how kind he was to the staff." Amy Henderson, an NPG historian, states, "I was there, and must say he looked like a movie star. When I said something like, 'Hi, Mr. Heston,' he replied, 'Chuck.'"
Sources:
Reuter's ("Oscar Winner Charlton Heston dies at 84," April 8, 2008)
Washington Post ("A Persona Carved in Stone," April 7, 2008)
NPG staff: Margaret Christman, Beverly Cox, Amy Henderson, Linda Thrift