From Church Choir to Civil Rights: Marian Anderson's Path of Hope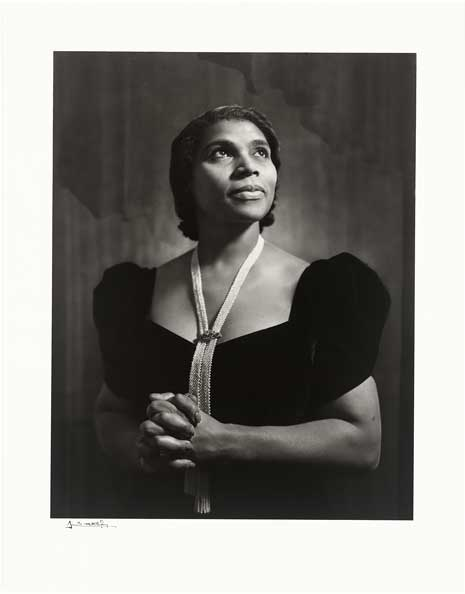 By Greer Bates, Intern, Catalog of American Portraits, National Portrait Gallery
Long before her national debut on the steps of the Lincoln Memorial, singer Marian Anderson found her voice singing hymns every Sunday at church—accompanied by a congregation that proved to be her first audience and primary sponsor.
By the age of six, Anderson had already won recognition for her vocal talent. One of the youngest members of the African American Union Baptist Church choir in Philadelphia, Anderson was called  "Baby Contralto" for her powerful voice. Over time, members of the choir encouraged Anderson to perform with other groups, including the People's Chorus, a prestigious African American ensemble in Philadelphia.
Anderson's father could not afford professional training for his talented young daughter. He used  what money he had to buy a piano, but the rising young singer bore responsibility to train on her own. When her father died suddenly, Anderson drew comfort from music and church involvement. She stayed loyal to Union Baptist, and her voice continued to peal in the church meeting hall, gaining richness and depth every year.
The years following her father's death were difficult for Anderson and her family. Her mother worked hard to earn money for necessities, but financial ends barely met at the close of each month. Union Baptist's congregation recognized Anderson's potential and assisted the family by fostering hope in the young vocalist's future. At their encouragement, Anderson performed in concerts throughout the city, which provided a much-needed supplement to the family's income.
When Giuseppe Boghetti, an acclaimed vocal trainer, heard Anderson sing, he immediately offered to take her on as a pupil. Anderson declined, unable to pay for the lessons. But her friends at Union Baptist refused to see her talent go to waste. In her autobiography Anderson later wrote, "I might have known that . . . the people at the Union Baptist Church would find a way to provide. [They] arranged a gala concert at our church. . . . After all expenses, about six hundred dollars were realized, and with that money Mr. Boghetti was engaged to be my teacher."
With these funds, Anderson studied with Boghetti for two years before touring Europe and giving concerts in the United States. She faced heavy racial discrimination, which culminated in the infamous incident with the Daughters of the American Revolution, which refused to let her sing at a scheduled performance in its Constitution Hall. In response, first lady Eleanor Roosevelt arranged for Anderson to sing instead at the Lincoln Memorial for a nationally broadcast Easter concert—an early triumph for civil rights.
On April 9. 1939, Marian Anderson's contralto rang over the National Mall and over radio waves nationwide. Union Baptist members heard their "Baby Contralto"—the young star whom they had endorsed with moral and financial support—sing the hymns they had taught her years earlier. They had paid for her training; now Anderson sang for their hope.
References:
Marian Anderson, My Lord, What a Morning: An Autobiography (Champaign: University of Illinois Press, 1956).
Victoria Garrett Jones, Marian Anderson: A Voice Uplifted (New York: Sterling Publishing Company, 2008)
"Marian Anderson," The Biography Channel Website 
 "Marian Anderson," American National Biography Online