Conservation of the Lansdowne Portrait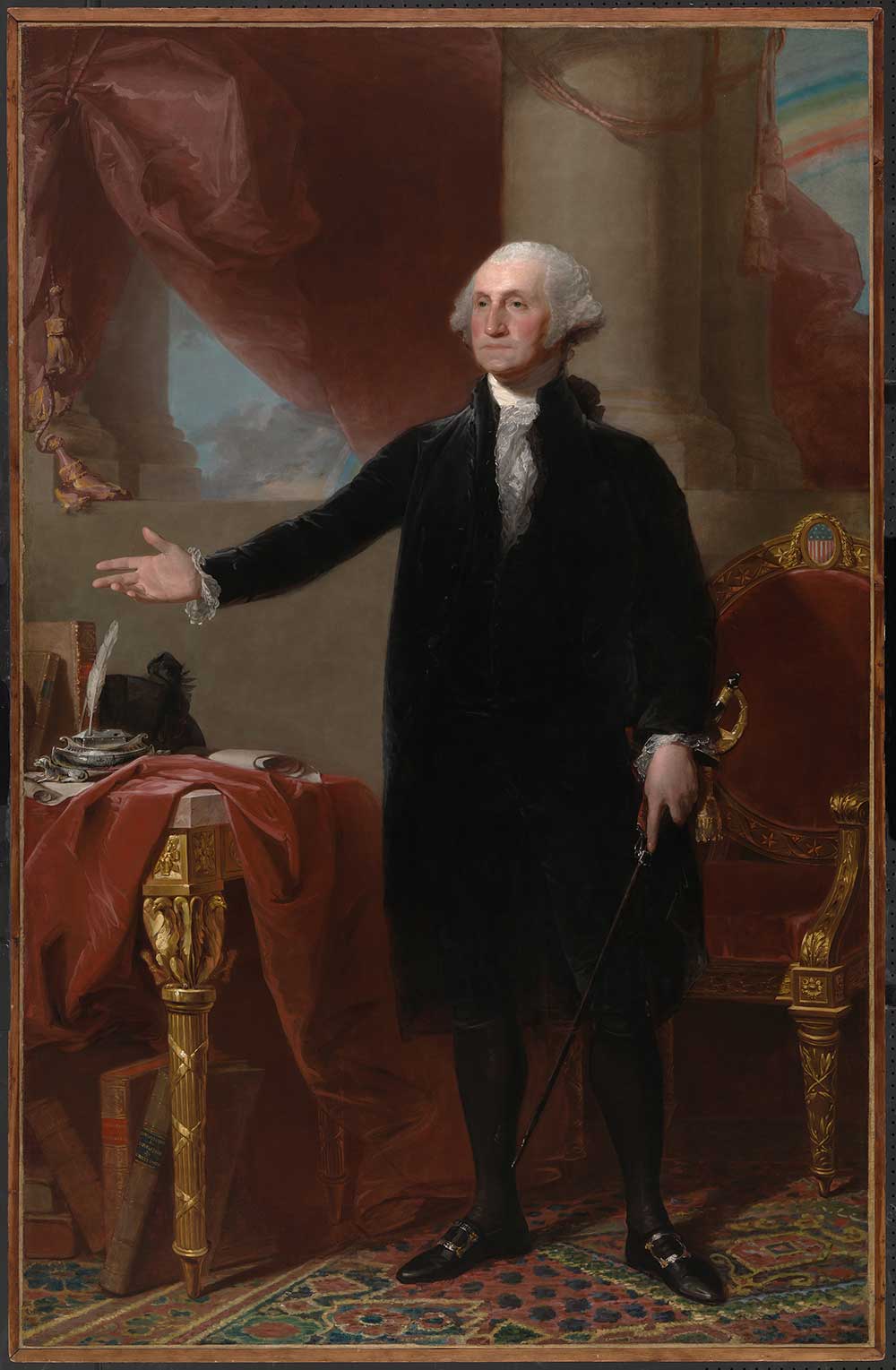 The full-length 1796 "Lansdowne" portrait of George Washington by Gilbert Stuart is a national treasure and is considered Stuart's American masterpiece. According to Ellen Miles, Curator Emerita of paintings and sculpture at the Portrait Gallery and Stuart scholar, the iconic painting which presides in the museum's Hall of Presidents "…was quickly recognized as the best pictorial summation of Washington's public role as first president of the United States."
The painting which had been on loan to the gallery since 1968 until its acquisition in 2001, presented some conservation issues which needed to be addressed.  In February 2016, the portrait was taken off view for analysis and conservation treatment, an effort that was generously funded by Bank of America.  The painting had been previously covered with a resinous varnish that yellowed over time, disguising its original brilliance. In order to understand Stuart's materials and working processes, as well as establish a treatment strategy, CindyLou Molnar, Head of Portrait Gallery Conservation embarked on an 18-month project in collaboration with E. Keats Webb, Digital Imaging Specialist at the Smithsonian's Museum Conservation Institute (MCI). Digital imaging of the portrait was completed using ultraviolet-induced visible fluorescence, infrared reflectography and digital x-radiography. Information obtained from the analysis led to a successful cleaning that revealed the artist's original intent.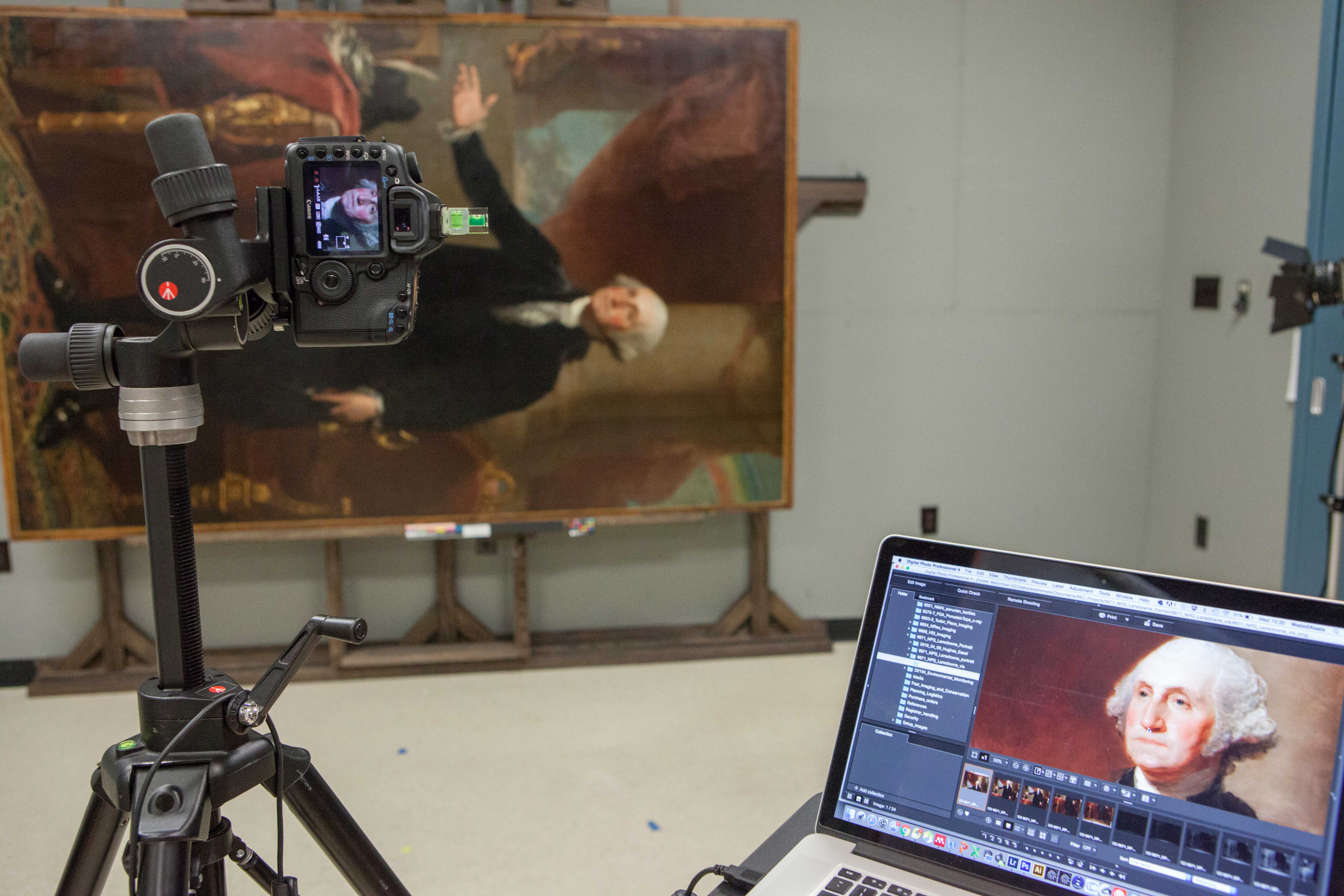 Imaging of the Lansdowne Portrait
Digital imaging techniques, as non-destructive tools, can aid in the investigation of paintings to reveal information about materials, preliminary sketches, and an artist's working process. With different illumination sources and cameras available at the Smithsonian's MCI imaging studio, the Lansdowne portrait was imaged using ultraviolet (UV), infrared (IR), and x-ray radiation to provide information beyond what the human eye can observe.
Ultraviolet (UV)-induced visible fluorescence (UV/Vis)
Ultraviolet light has been widely used in conservation for the examination of paintings. Ultraviolet-induced visible fluorescence (UV/Vis) is used to record low-energy radiation that materials reemit in the visible range, called fluorescence, during exposure to a UV radiation source. Different painting materials exhibit characteristic fluorescence or absorbance when exposed to ultraviolet light, helping to determine different types of varnish and identify areas of retouching.
UV/Vis of the Lansdowne portrait helped characterize the surface coating as a resinous varnish and showed several campaigns of retouching seen as areas in dark purple.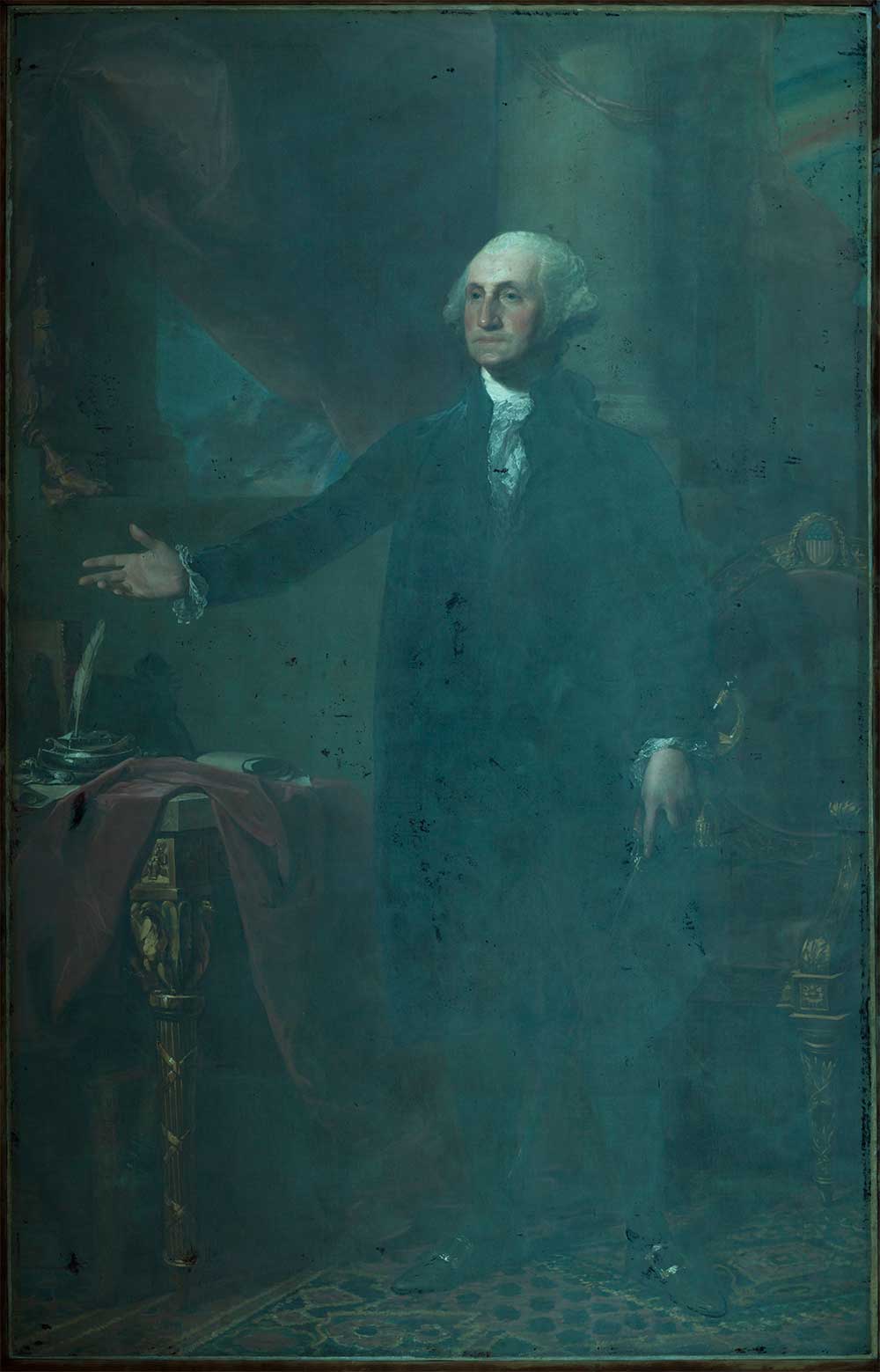 Infrared Reflectography (IRR)
Infrared imaging is a technique used in painting examinations that records the variation in absorption reflection and the transmission of IR radiation by an object revealing features that are otherwise not visible to the human eye. Unlike visible light, IR radiation may penetrate some materials below the surface of a painting to reveal underdrawing (a preparatory drawing directly on a ground, which is subsequently covered with paint), changes in composition, or information about the artist's working process.
An overall IRR image of the Lansdowne portrait was produced using 2,500 image tiles at three different exposures that were processed into 850 high dynamic range (HDR) IR tiles and mosaicked into a final image.
IR imaging did not show any underdrawing present on the Lansdowne portrait, and underdrawing does not appear to have been part of Stuart's painting process for this work. However, imaging did reveal compositional changes such as those found in the repositioning of the columns in the upper left corner of the painting and the shifting of Washington's legs. IR imaging also helped clarify how Stuart used paint to outline compositional elements and create shape and definition. For example, looking at the drapery, one can see tracings of Stuart's strong brushstrokes, which are not visible with the naked eye. Imaging details also show that Stuart first painted the table leg, which was then partially covered by the tablecloth, providing some insight into the artist's working process.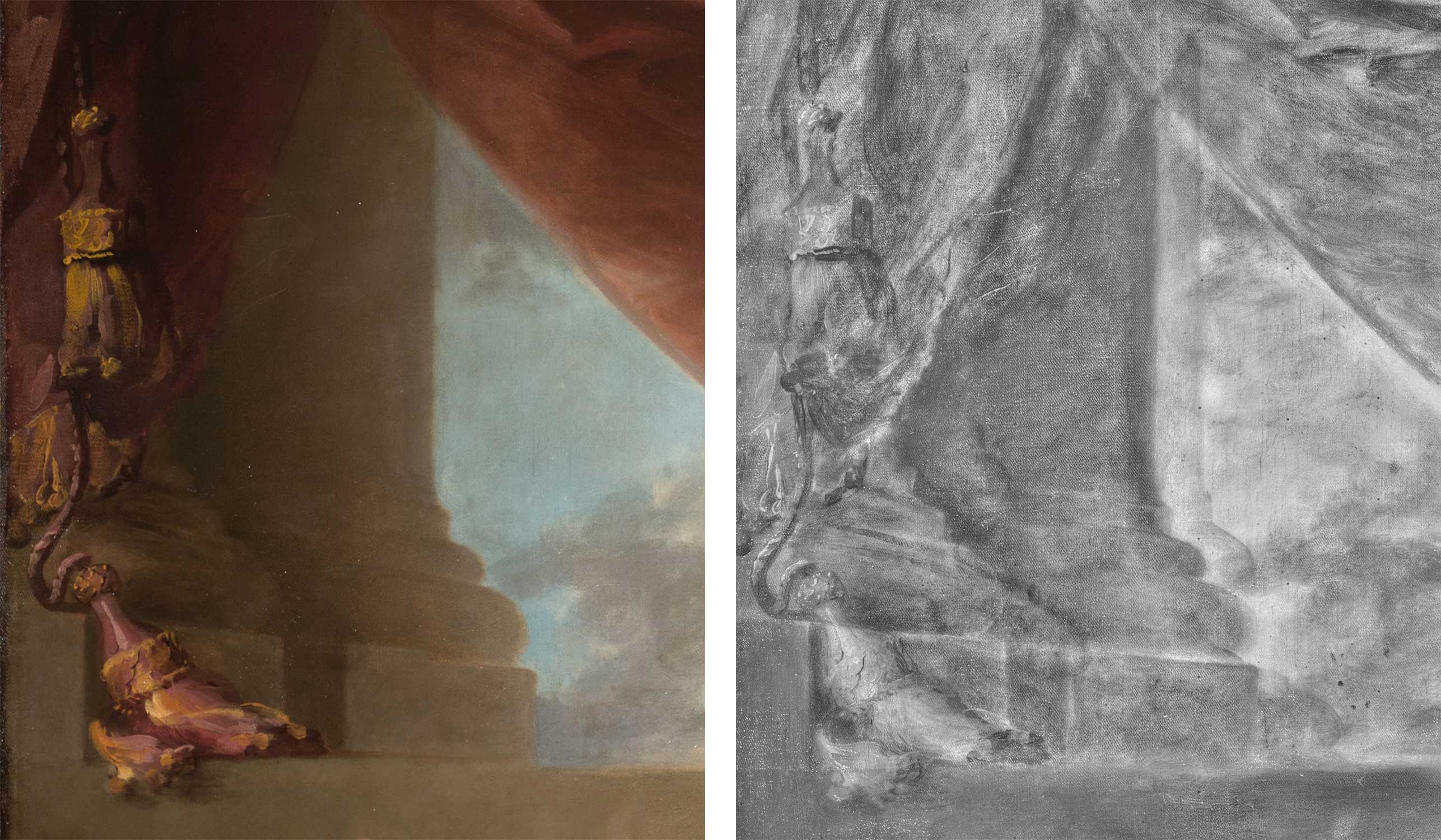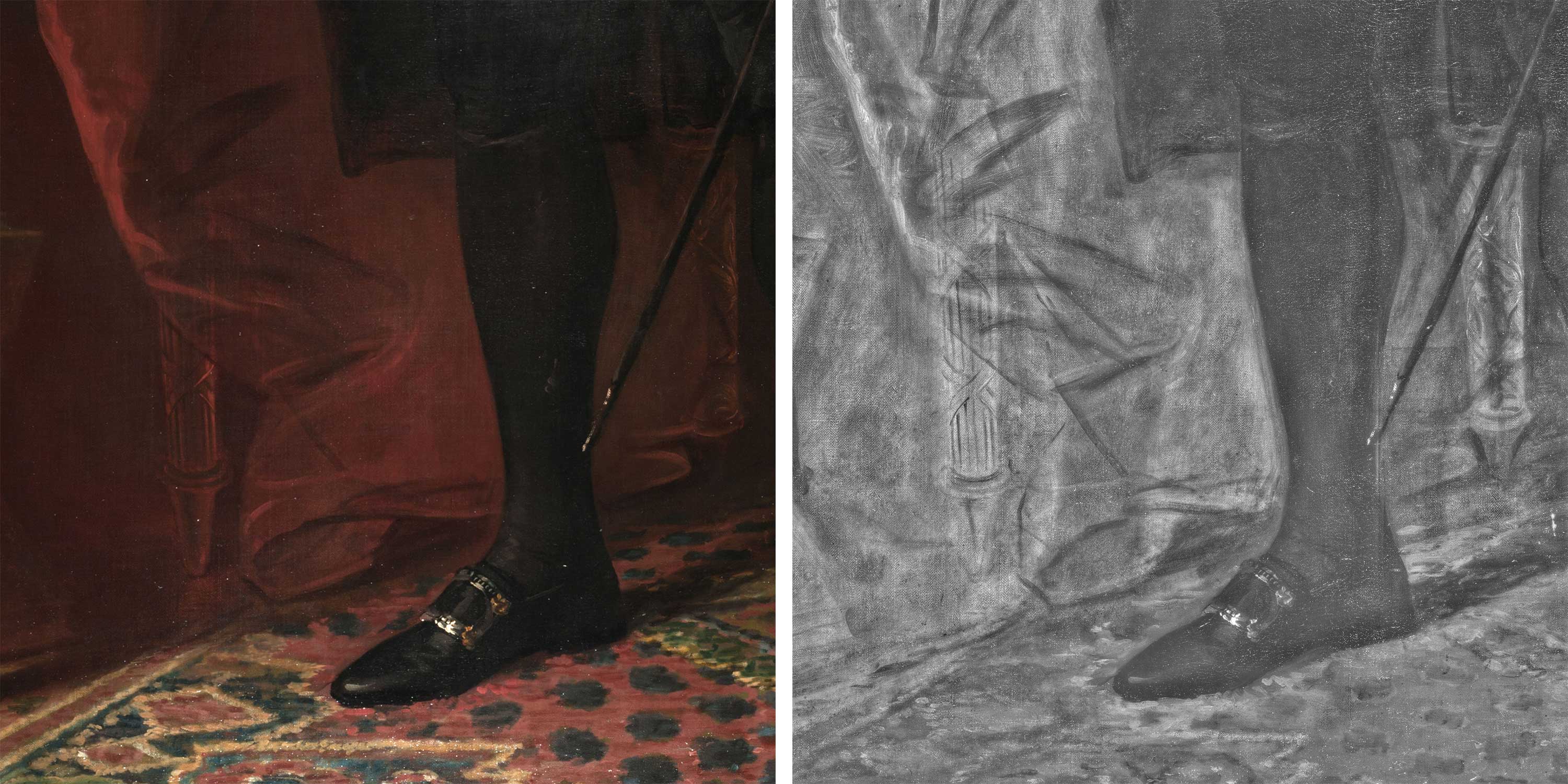 X-radiography
X-radiography has been a standard technique to document and assess the condition and construction of a painting.   X-rays, which penetrate an object, reveal pertinent information about losses in an original object that may not be immediately visible to the naked eye, as well as compositional changes and structural information.   
Forty-two x-ray images were taken of the Lansdowne and stitched together into a final overall image. X-radiographs clearly showed numerous artist changes throughout the portrait. Details shown below of the proper right hand and tabletop revealed changes around the extended hand, the lace sleeve as well as a second quill pen in the ark inkwell not visible in the finished painting.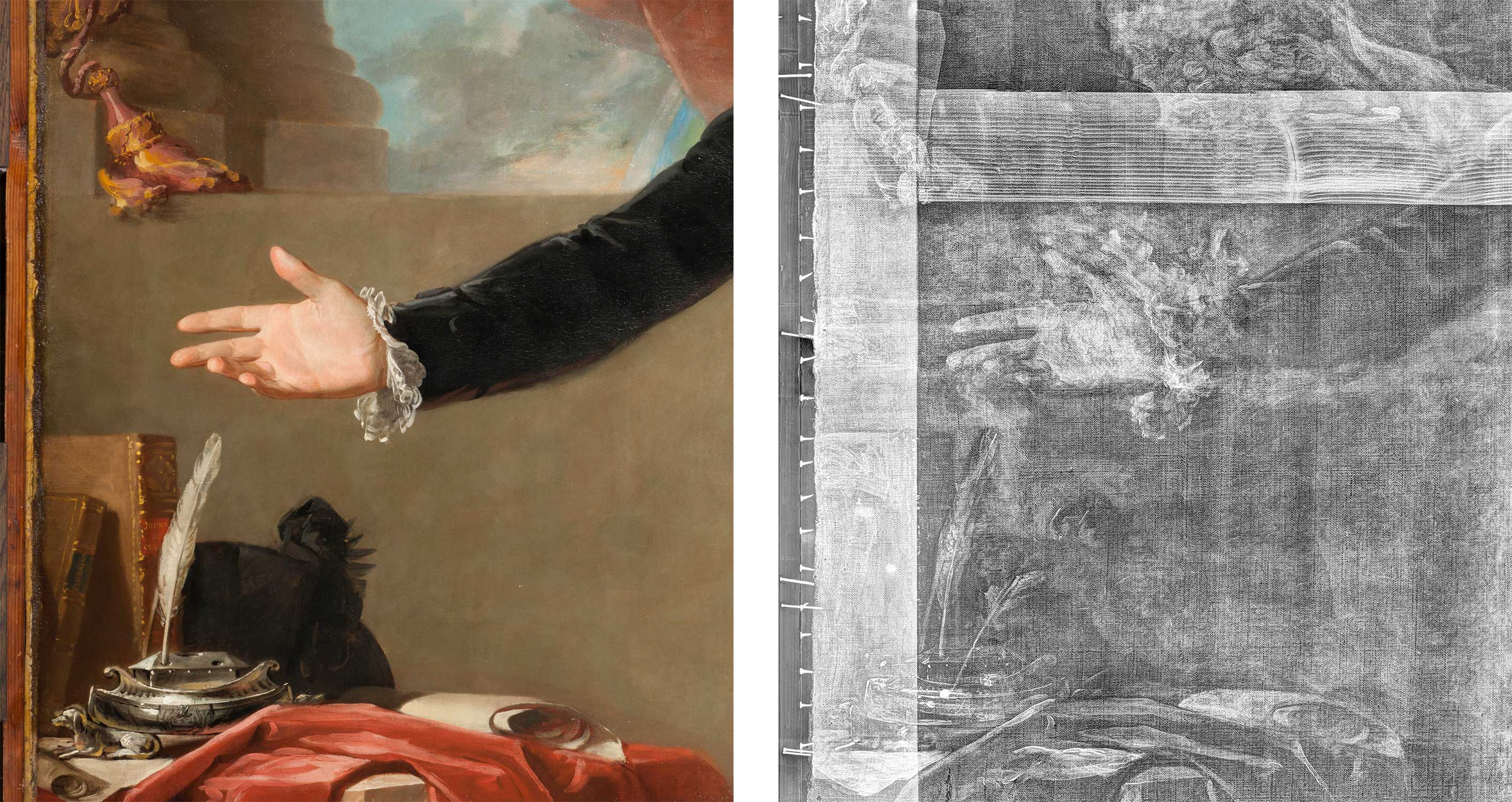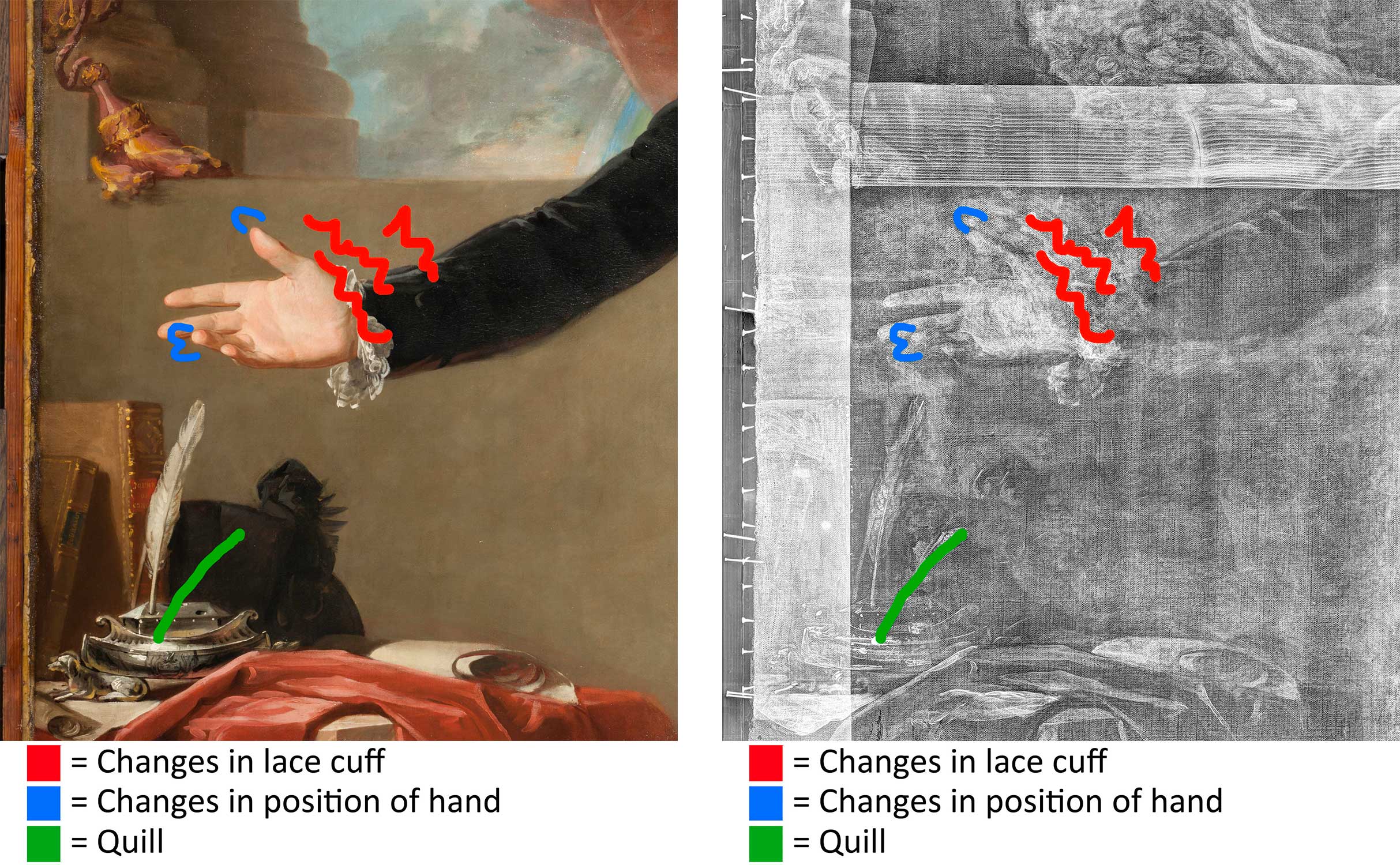 Cleaning
Conservation of the painting was a twelve-month undertaking. A measured approach was taken in the removal of the resinous varnish, which had significantly yellowed. Empirical tests were made using different combinations of solvents to determine the best method of varnish removal. Different pigments showed sensitivity to various solutions making a variety of combinations necessary to remove or reduce the yellowed varnish coating. In particular, the 18th century black coat was sensitive to a majority of solvents and an innovative approach of using silicone-based materials was used to minimize the varnish coating. After cleaning was complete, a non-yellowing varnish was applied to saturate colors, and areas of paint losses and abrasions were compensated with an appropriate color palette. 
Varnish removal exposed fresh new details throughout the painting and a portrait reflecting cooler tones.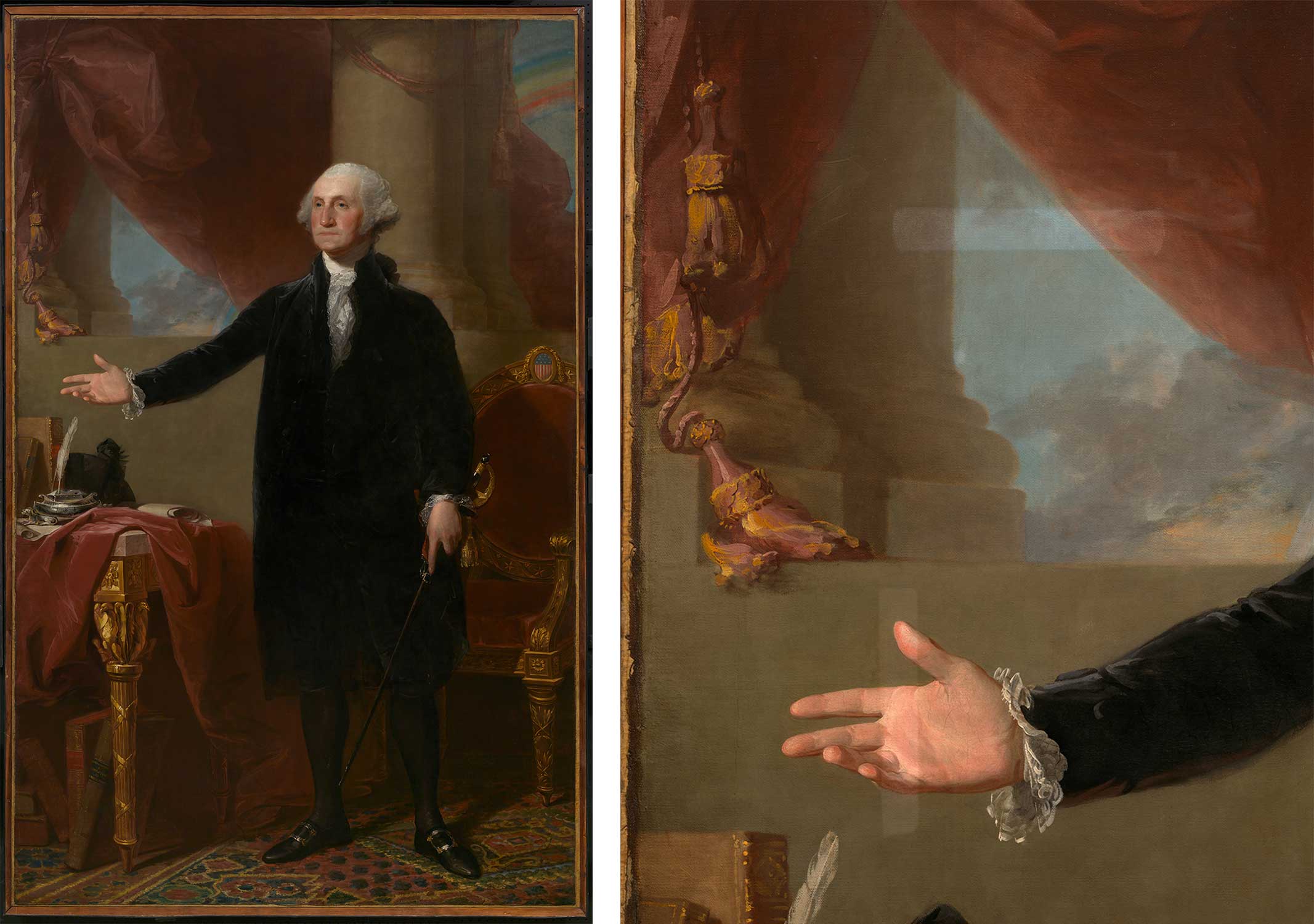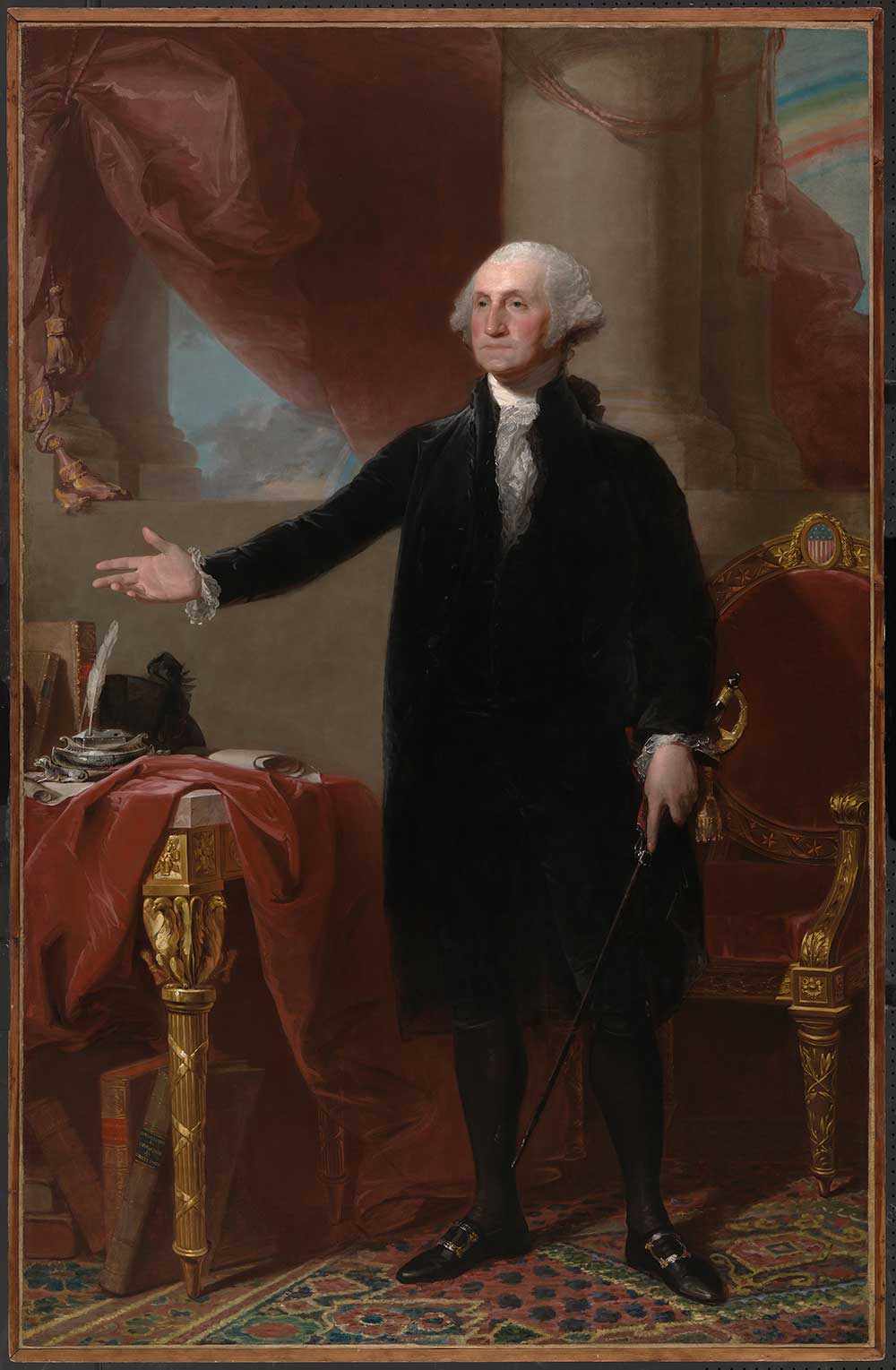 The Lansdowne portrait has been reinstalled in the newly renovated America's Presidents, September 2017.