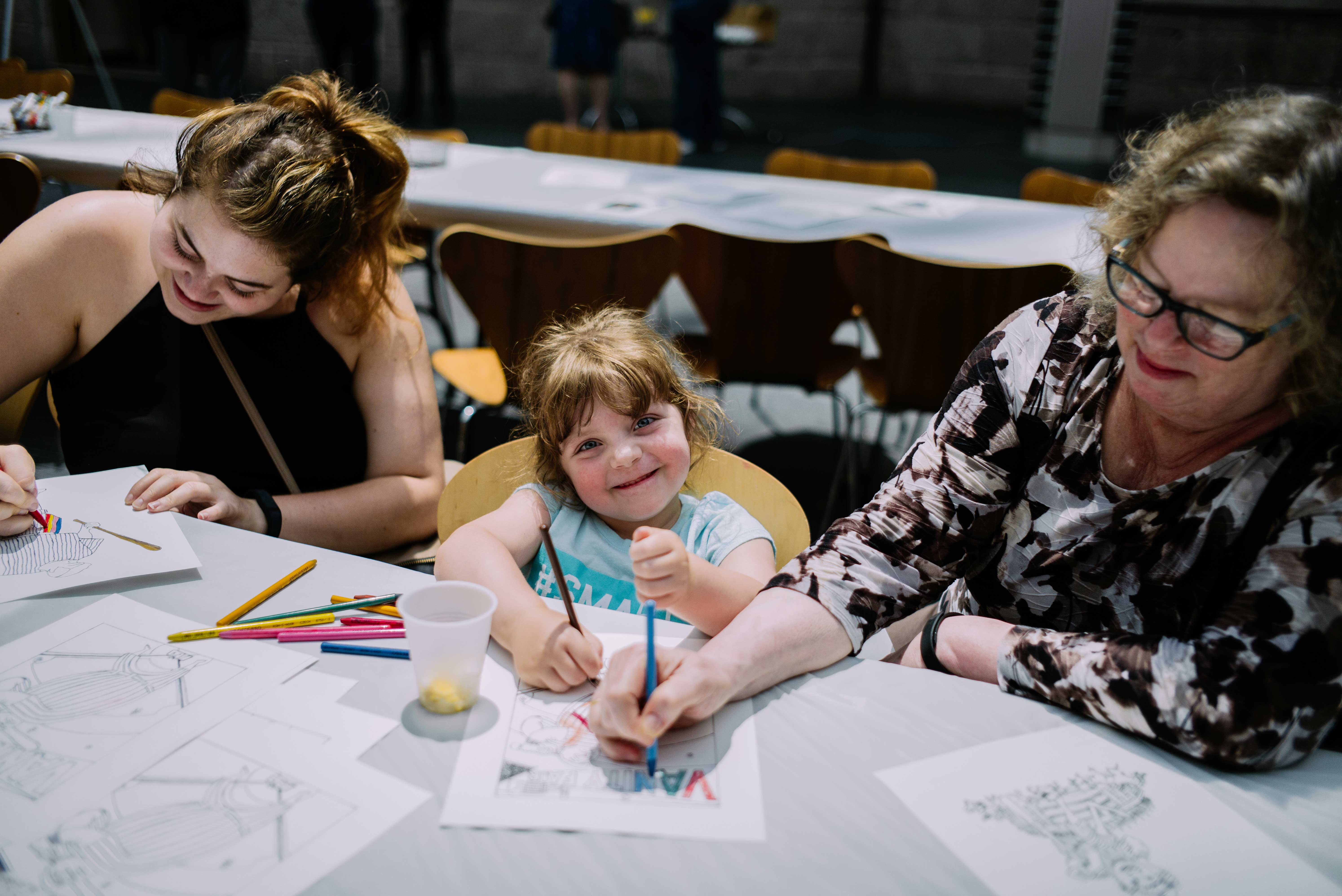 Looking for a dynamic and meaningful way to celebrate the end of summer with your family? Join us this Saturday, August 26, in the National Portrait Gallery's Kogod Courtyard from 11:30 a.m. to 3 p.m. for our Heroes Big and Small: Military Family Appreciation Day, which is being held in partnership with Blue Star Families.
Our exhibition The Face of Battle: Americans at War, 9/11 to Now highlights the courage of the men and women of the Armed Forces and honors the sacrifices that they have made. We've teamed up with Blue Star Families, a national organization committed to military families, to develop a program for both military families and civilian families to talk about these themes.
Blue Star Families can arrive at 11 a.m. for a private opening event. When the museum opens at 11:30 a.m., all families can join us for music, games, art activities, and more. In addition to the activities in the Kogod Courtyard, participants are encouraged to venture into the galleries to learn more about the Americans represented in the museum's collection of portraits, including a number of military leaders.
The popular local band By & By will perform their upbeat mixture of Americana, bluegrass, and "plunk rock" in the Kogod Courtyard. Concerts will be held at 11 a.m., for the Blue Star Families, and at noon and 2 p.m. for the general public. Between performances, visitors can join the Portrait Gallery's historian emeritus David C. Ward, for a 1 p.m. tour of America's Presidents, where they will learn about the country's leaders, starting with General George Washington.
After visiting the galleries, participants can curate and create their own 3D exhibitions of valiant Americans at one of a handful of stations. Which portraits would you hang on the walls? Draw your own works of art or choose from a selection of our portraits. At another station, participants will have the opportunity to make a self-portrait and write down their unique heroic qualities. A third activity will focus on stars and stripes, with an opportunity for artists of all abilities to create a flag of the United States.
This Saturday we celebrate the men, women, and children who serve their country on and off the battlefield, but we also acknowledge that heroes come in all forms—big and small.  
Heroes Big and Small: Military Family Appreciation Day, in partnership with Blue Star Families
Saturday, August 26, 11 a.m.–3 p.m.
Robert and Arlene Kogod Courtyard
This program is sponsored in part by the Reinsch Family Education Endowment.