Death of President Chester Alan Arthur, November 18, 1886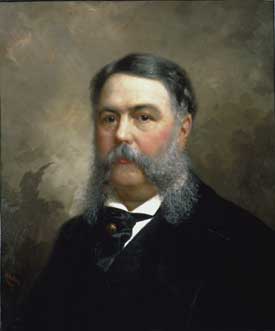 This blogpost originally appeared November 18, 2009
Chester Alan Arthur, one of the few men to serve his entire presidency without ever being elected to office (John Tyler, Millard Fillmore, Andrew Johnson, and Gerald Ford were the others), died on this day in 1886. Upon the murder of James Garfield in 1881, Arthur became the twenty-first president of the United States.
Interestingly, although Arthur was never a combat soldier, he was given the title of brigadier general during the Civil War because of his work with the New York state militia's supply corps; he preferred to be addressed as "general" after that.
Although skilled in the chicanery involved in New York politics and political appointments, President Arthur signed into law the Pendleton Act (1883), a massive civil service reform bill that was ushered into place in order to crush the decades-old spoils system. By the time Arthur had completed the term for which Garfield had been elected, he was widely admired.
Mark Twain is known to have made one of his few charitable political comments in reference to Arthur.  In Fifty Years a Journalist, Melville E. Stone records Twain as commenting, "I am but one in 55,000,000; still, in the opinion of this one-fifty-five-millionth of the country's population, it would be hard to better President Arthur's administration. But don't decide until you hear from the rest." Twain  had not always been so kind to Arthur. When Arthur served as collector of the Port of New York early in his career, Twain had said of him, "We put the vast business of a custom house in the hands of a flathead who does not know a bill of lading from a transit of Venus."             
Biographer George Frederick Howe wrote of the twenty-first president:
Time brought Arthur an obscurity in strange contrast to his significant part in American history. "Governments, like clocks, go from the motion that men given them," as William Penn so wisely wrote. Even when a certain momentum may carry them along, direction is given by the guiding minds of such political leaders as Arthur. . . . Had he not become a president he would have remained a minor character on the historical stage, but as president, he played an important role.
Arthur lost his party's nomination for the election of 1884; it is believed by many historians that his efforts to get elected were not exhaustive. Arthur's health was poor and he died less than two years after leaving office.  His portrait, by Ole Peter Hansen Bailing, is on view at the National Portrait Gallery, in the exhibition "America's Presidents."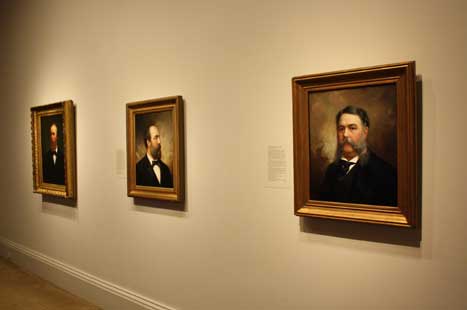 Note: Special thanks to Doug Litts, senior reference librarian at the Portrait Gallery/American Art Museum Library for his help in researching this article.