Domingo Ghirardelli: Chocolate in the Golden State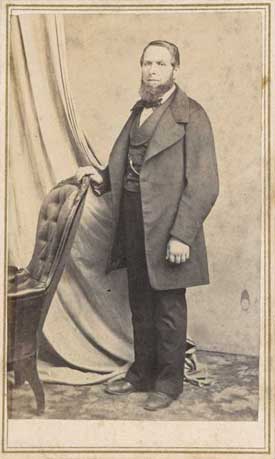 This blogpost originally appeared on December 1, 2009
A confectioner from Italy, Domingo Ghirardelli established himself as a chocolate merchant in Lima, Peru, before immigrating to California in 1849. Unsuccessful as a miner, Ghirardelli returned to the confectioner's trade shortly thereafter, opening his first shop in Stockton, California.
Ghirardelli's business selling chocolate, coffee, and dried fruit was profitable, leading him to open a second store in San Francisco. Although a fire destroyed this establishment in 1851, he rebuilt. Ghirardelli was one of only two chocolate manufacturers in the United States before the Civil War, and his product dominated the western market. By the 1880s he was importing more than 450,000 pounds of cocoa beans a year.
The photographer of this carte-de-visite portrait was George H. Johnson, who—like Ghirardelli—relocated to California during the gold rush. He also failed as a prospector, but earned a reputation for opening one of the first photography studios in San Francisco.
Ann Shumard, curator of photographs at the National Portrait Gallery, recently discussed Domingo Ghirardelli at a Face-to-Face portrait talk. This 1860 portrait by George H. Johnson is on view at the Portrait Gallery, in the exhibition "Faces of the Frontier: Photographic Portraits from the American West, 1845–1924," on the museum's second floor.
>> Listen to Ann Shumard's Face-to-Face talk on Domingo Ghirardelli (18:44)