Dr. Benjamin Rush's Portrait by Thomas Sully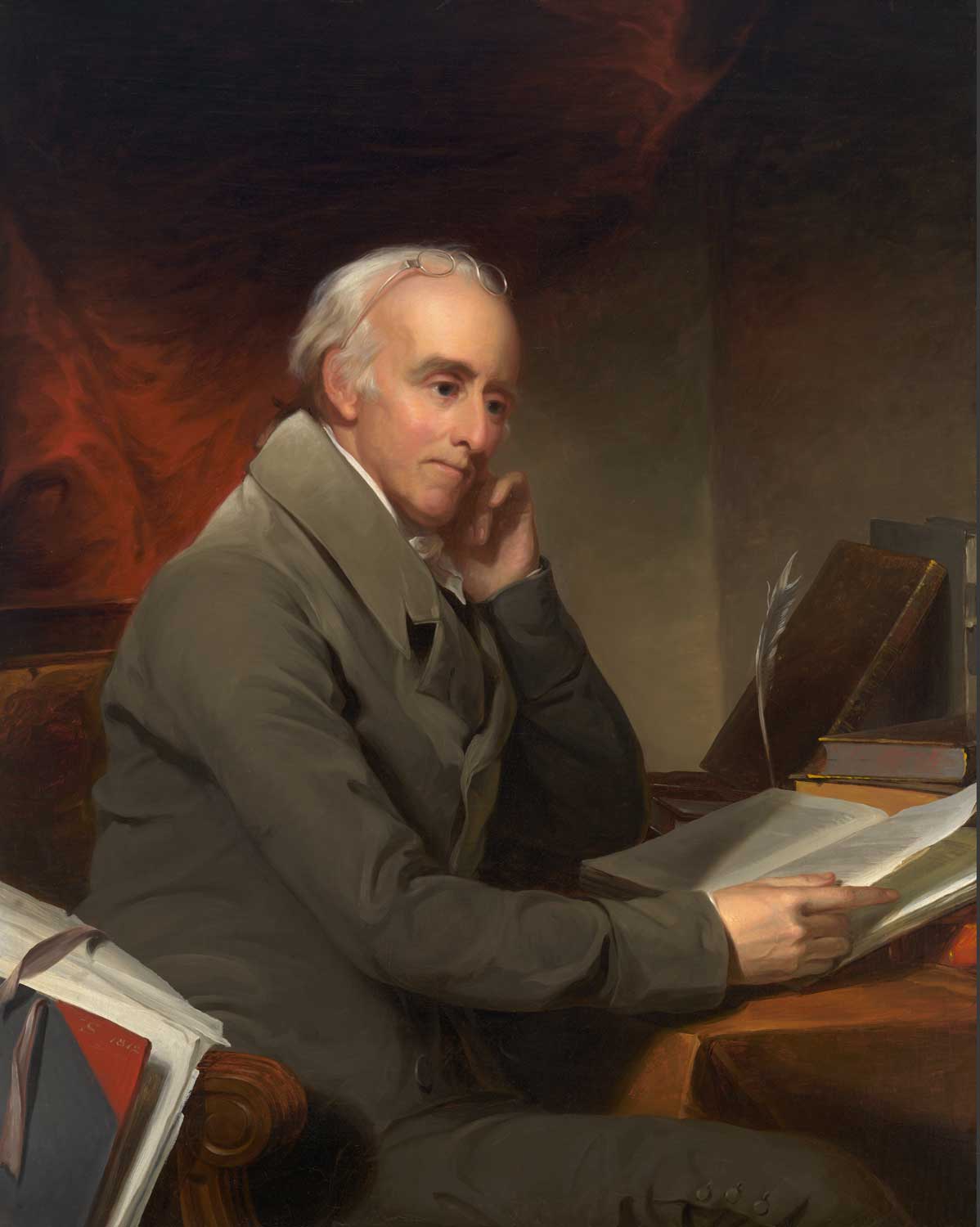 During the later 1760s, Benjamin Rush (1746–1813), who was completing his medical education in Edinburgh (as did many of his contemporaries), was quite outspoken about his support for the American colonies and their struggles against Great Britain.  He wrote to a friend in 1768, "For my part I am resolved to devote my Head—my Heart & my pen entirely to the service of America."
Upon his return to Philadelphia, Rush was soon appointed to a teaching position in chemistry at the newly established medical school of the College of Philadelphia, and in 1770 he published the first American chemistry text. Rush practiced and taught medicine throughout his life, but his curiosity and deep intelligence led him to other worthy projects and pursuits.  He was interested in many aspects of science and was an early member of the American Philosophical Society, modeled on England's Royal Society, where like-minded men gathered to engage in scientific study.  Rush was opposed to slavery as well as capital punishment, and worked for prison reform.  He helped to found Dickinson College in Carlisle, Pennsylvania, and was a strong advocate for education for women. He was engaged in the American Revolution as a signer of the Declaration of Independence and for some years was the surgeon general of the Revolutionary army.  In later life, he studied the medical relationship between the body and the mind, publishing Medical Inquiries and Observations upon the Diseases of the Mind in 1812; this was one of the earliest American works on psychiatry.  
Rush also had an interest in portraiture.  While still a medical student he requested that one of his professors sit for a portrait so that it could be engraved and his students could all have copies.  Many years later he speculated on the usefulness of portraits of people with various diseases, whose symptoms might be revealed in their countenances, so that these could be more easily studied.  Over the course of his life he sat for numerous portraits, from cut paper silhouettes and pastel drawings to paintings and sculpted busts.  Some of these likenesses were engraved, for Rush was so well known and respected that there was a market for his likeness.
  The National Portrait Gallery is pleased to have on loan, in honor of the museum's fiftieth anniversary, a handsome painting created in December, 1812, just a few months before Rush's death,  by Thomas Sully, a talented artist just achieving renown in Philadelphia during these years. Dr. David Hosack, a dear friend of Rush, asked the artist to make a portrait, writing to Sully in April, 1812:  "Believing that you duly appreciate the mind which animates the face of my friend, and that you have become familiarly conversant with his features, I have no doubt you will be enabled to furnish me with a portrait which will be gratifying to me, at the same time that it will afford me and your other friends an opportunity of seeing a specimen of the present highly improved productions of your pencil."  Dr. Hosack also wrote to Rush to persuade him to sit for the portrait, noting that he had chosen Sully for the task because "he…is sufficiently acquainted with your mind as well as your face, to blend them on the canvas."  We know that Rush would have greatly appreciated being depicted as an intellectual, for a portrait completed in 1786 by another Philadelphia artist, Charles Willson Peale, focuses entirely on Rush's knowledge of many branches of science and literature through books and papers included in the painting.  In Sully's portrait, he is also portrayed at his desk, turning the pages of a book, a portfolio at his side, and his quill pen at the ready.  He is deep in contemplation, his spectacles upon his forehead, and his index finger supporting his head, in a time-honored pose of intellectual activity.  This likeness was copied several times and engravings were also produced.  It became the best-known image of Dr. Rush after his death, carrying his reputation far into the nineteenth century.