Eli Whitney by Charles Bird King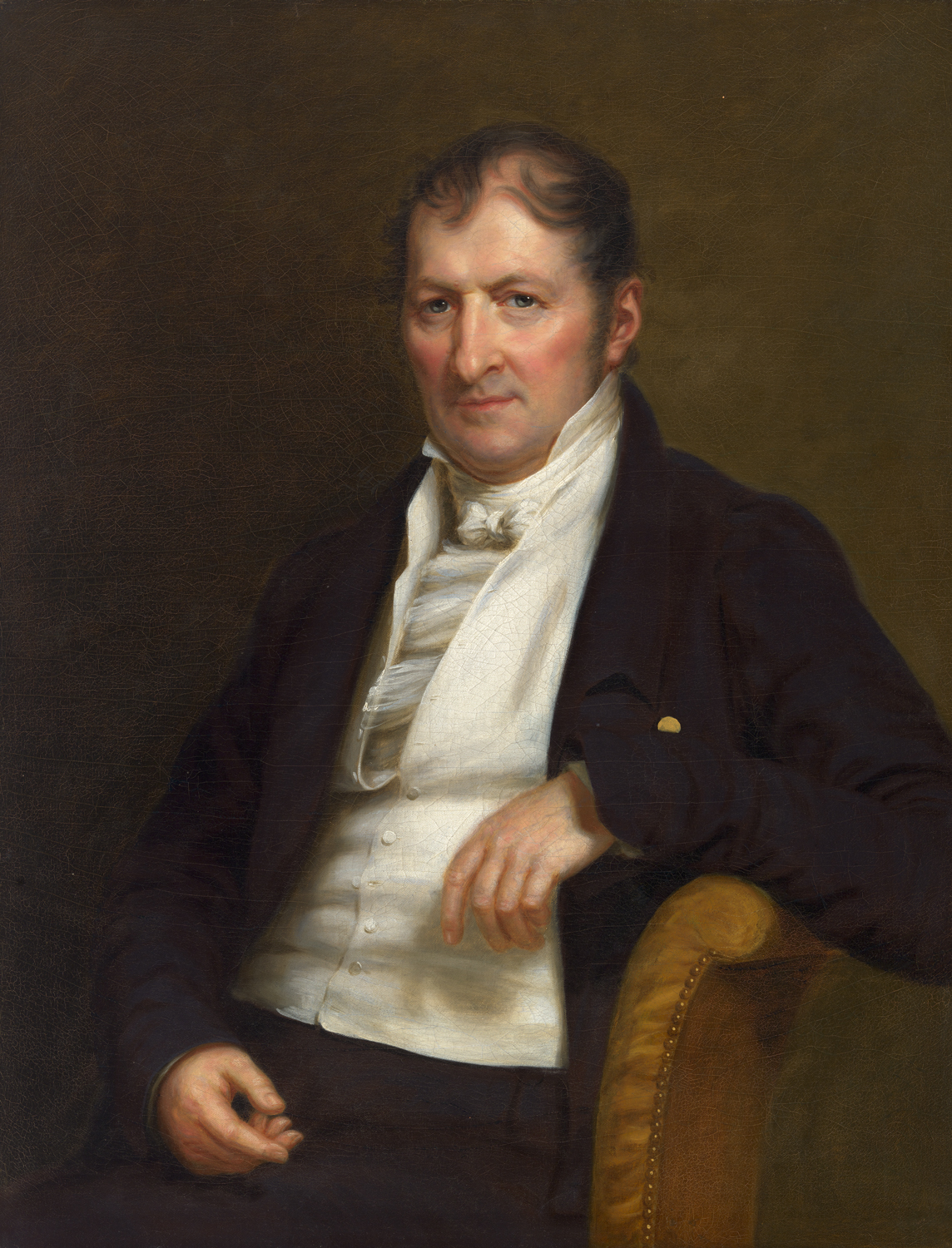 Eli Whitney (1765-1825), son of a Massachusetts farmer and inclined to mechanical activities and inventions from an early age, is remembered as a man who was instrumental in the invention of the cotton gin and creating standardized parts for firearms, two of the most important developments not just for manufacturing but for 19th century American society. Whitney is best known for the cotton gin, a device for processing upland (short staple) cotton, whose boll was notoriously difficult to clean. He fabricated the first gin around 1792 while visiting a plantation in Georgia. The efficiency of the "gin" permitted the tremendous expansion of cotton cultivation, fueling both the spread of the slave system and the industrial revolution in textile production. The gin was so simple and easy to use that it was pirated by southern planters and Whitney spent a decade trying to enforce his patent.  He never profited from the gin.
However, his inventive mind was then focused on developing a process for making muskets by an early form of the assembly line, using standardized parts.  Gun making had been the province of highly skilled craftspeople, but in the early nineteenth century, others were also beginning to look at developing methods for creating guns so that relatively unskilled people could do the work. 
Whitney wrote to a friend "One of my primary objects is to form the tools so the tools themselves shall fashion the work and give to every part its just proportion—which when once accomplished will give expedition, uniformity and exactness to the whole….  In short, the tools which I contemplate are similar to an engraving on copper plate from which may be taken a great number of impressions exactly alike."
Around 1798 Whitney purchased land and built the structures for his manufactory and housing for the workers near New Haven, Connecticut.  Whitneyville, as it was called, became one of the first manufacturing villages in the country.  After years of working to improve the rate of production, by 1815, Whitney was finally able to fulfill his government contracts expeditiously and became very successful.  He was well-known throughout the nation for his connections to the cotton gin, as well as his manufacturing efforts, but finally, he had achieved financial stability.
He married late in life, in 1817 to Henrietta Edwards, and had four children. Although Whitney traveled to Washington, DC throughout his life, around 1821, sometime after the birth of a son in January of that year, he was visiting a firearms manufactory in Harpers Ferry, near Washington.  According to his descendants, in the summer of 1821 he sat for this portrait for artist Charles Bird King, who had worked in and out of Washington for some years and settled there in 1819.  It is an example of King's finest work from that time, and engravings after this likeness were disseminated throughout the nineteenth century.  King was creating portraits of other leading Americans in Washington at this time, including Henry Clay, and John Quincy Adams.
King's studio was just a few blocks from where the Old Patent Office Building, which now houses the National Portrait Gallery.  The museum is pleased to have this important portrait by a Washington artist on loan in honor of the Portrait Gallery's 50th anniversary.