Encompassing Performance: Connections, Access, and Engagement
As the National Portrait Gallery approaches its 50th birthday on October 7, the museum continues to mark a commemorative year of performances by expanding the notion of portraiture, access, and engagement.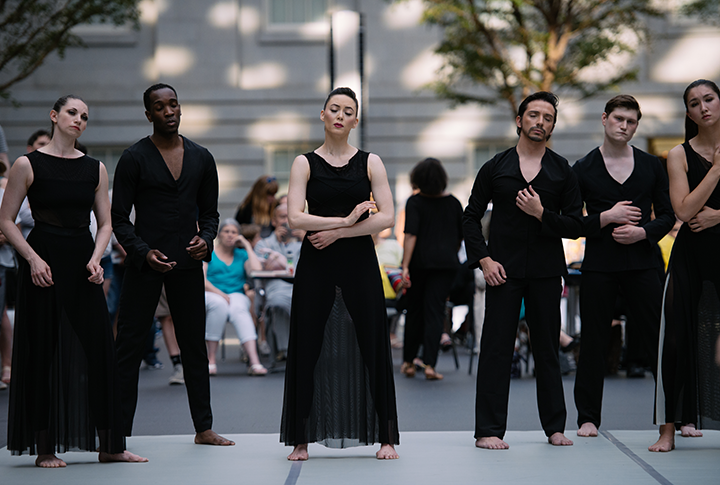 The museum's choreographer in residence, Dana Tai Soon Burgess, develops modern dance pieces in response to the museum's exhibitions and collections. Drawing from his mixed background, Burgess has created repertory that embraces human connectedness, belonging, and social acceptance. Many of his commissioned performances intersect with these ideas. In 2016, Burgess examined themes of otherness with the museum's Triennial Outwin Boochever Portrait Competition (2016) entitled "Margin."  The psychological impact of war, Post Traumatic Stress Disorder, and coming to terms with one's own mortality are other themes explored by the choreographer, in his work "After 1001 Nights," in response to the museum's Face of Battle exhibition (2017). In "I am Vertical," named after one of Sylvia Plath's more popular poems and based on One Life: Sylvia Plath (2018) Burgess explored Ted Hughes and Plath's sinuous relationship, said to be allegedly abusive, and Plath's struggles with depression. His newest piece "Silhouettes," scheduled to debut on October 27 and 30, is inspired by the museum's current exhibition Black Out:  Silhouettes Then and Now. The work delves into the light and dark visages of the self through a montage of seven dances—each inspired by a silhouette from the exhibition.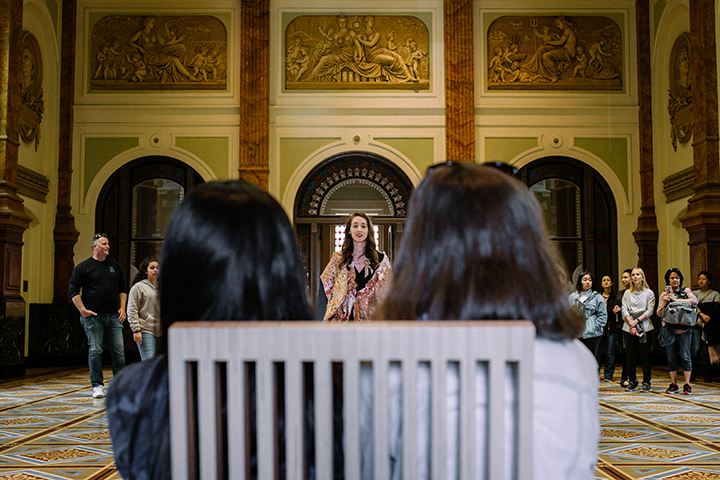 Through the museum's "IDENTIFY" series, performance art takes center stage, focusing attention on social activism, forgotten stories, and overlooked narratives. While amplifying the visibility of personal and historic accounts that have often been disregarded, these stories fill in the gap of the museum's collection, and have served as a catalyst for conversations that challenge how history is written and by whom. The series confronts conventional forms of representation and identity, and provides a revisionist platform for experimentation through portrayal.  Artists such as Sandy Huckleberry, Wanda Raimundi-Ortiz, Sheldon Scott, Wilmer Wilson IV, and Maria Magdalena Campos Pons, James Luna, and J.J. McCracken have used their bodies, voices, and self-identifiers to explore other narratives. "Sonic Blossom," Lee Ming-Wei's performance installation for the museum's 50th anniversary, gave a gift of song (a Shubert lieder) to museumgoers in the museum's historic Great Hall. It employed the comfort of music with a shared experience between the singer and recipient. The transformative performances offered a personal encounter between two strangers, bound by song.
This fall, Heidi Latsky Dance Company will preview ON DISPLAY, a deconstructed performance installation and commentary on society's obsession with body image. In this interactive work, physically integrated dancers with disabilities highlight the complex relationship of "the gaze" between the viewer, who is viewed, and societal judgements based on physical differences. The gaze and the body as spectacles are explored through a range of performers of various ages, genders, backgrounds, and disabilities. 
As we push through a year of political and social divisiveness, performance offers moments of collective relief, re-ignites imagination, and evokes sensory and visceral reactions. Performance channels the beauty of humanity and provides reflection of our shared experiences.   
Through programming, the National Portrait Gallery illuminates the importance of performance as an art genre that is sometimes viewed purely as entertainment, but more than anything, is a needed escape, a true distraction from our everyday lives, and an opportunity to enrich our minds and embrace our connections.